Anand Retains Norway Chess title – at cooking
The rest day cooking competition and more.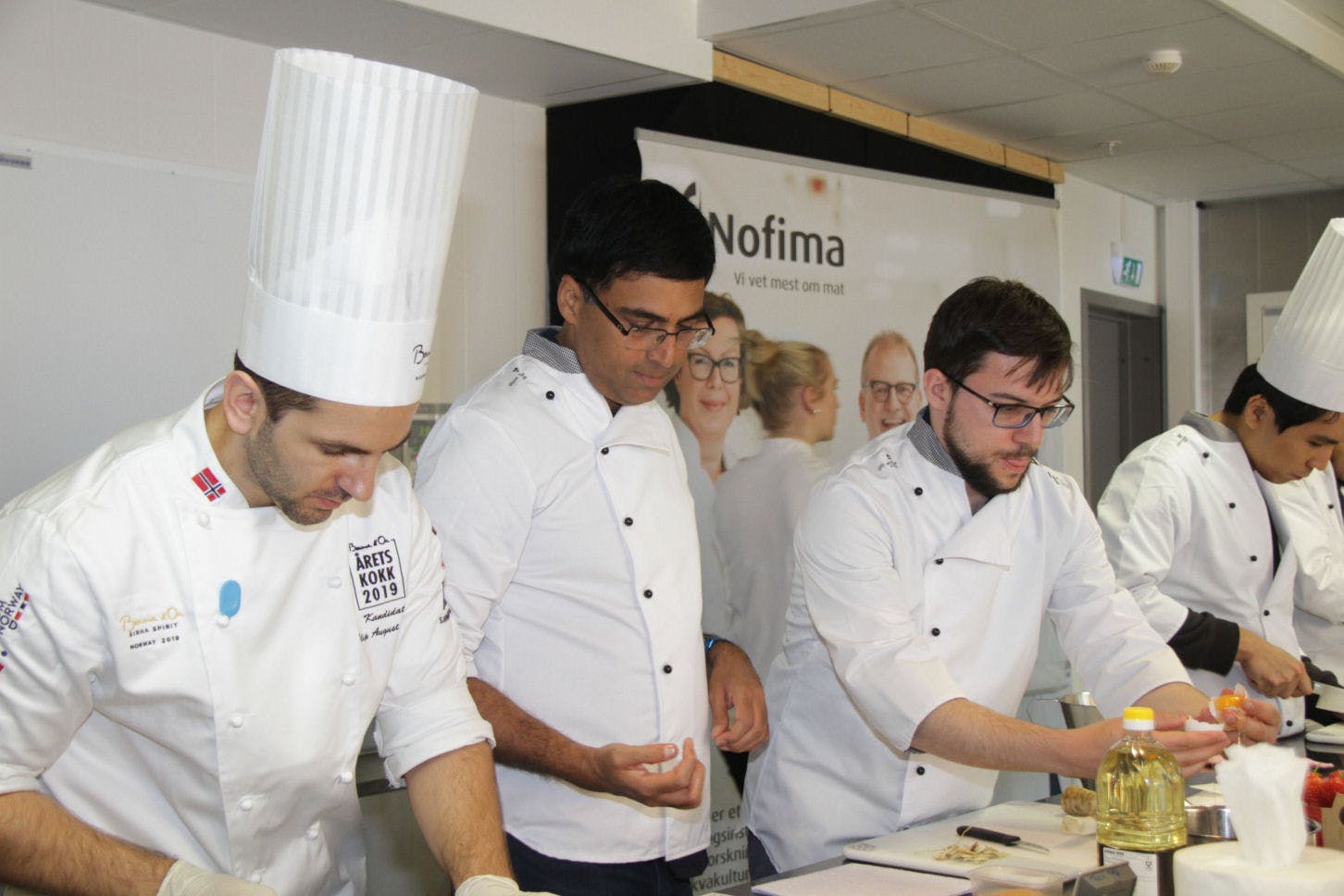 The seventh edition of the Norway Chess tournament in Stavanger is no ordinary super-tournament.
Nowadays there are four or five events each year with a world class field (though few have fjords so close by the playing hall) but Norway Chess is the only one in which all the players are tested to their limits in a cooking competition.
Asking chessplayers to do something useful has been a stroke of genius by the Norway Chess organizers. Sure, between them the elite field assembled in Stavanger have multiple other sports and card and video games covered, but what happens when the chess world and the real world collide?
In the first real life experiment, in 2017, the Norway Chess players were asked to milk a cow and drive a tractor but this was deemed too esoteric and failure could be laughed off. Failure to be able to follow a recipe was another matter.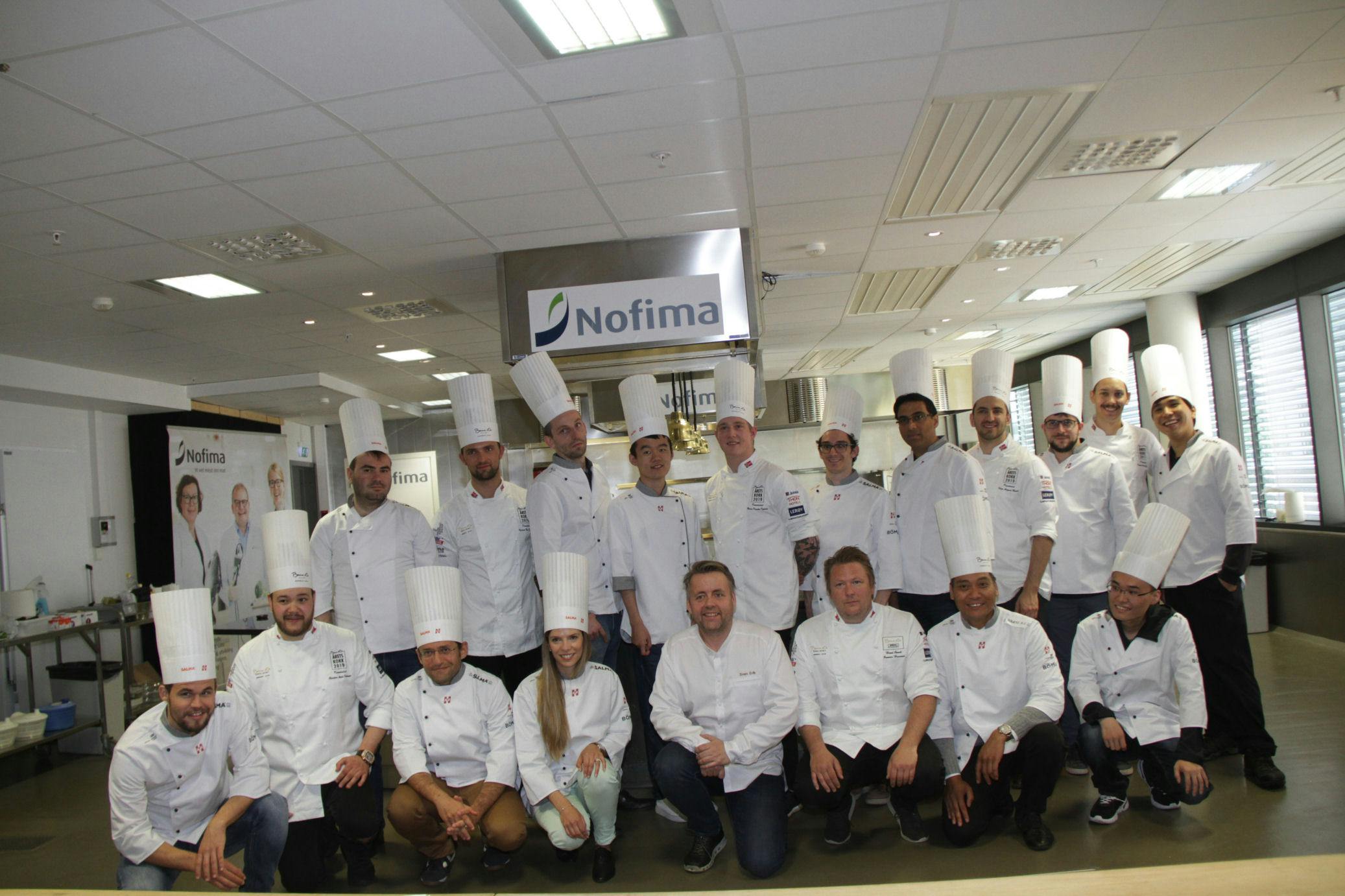 The players, Chefs, and Judges. Photo: Cathy Rogers
The first cooking contest, at Norway Chess 2018, saw the team of Viswanathan Anand and Ding Liren impress the judges and win the contest with their hollandaise sauce; a feat which was even more remarkable given that Ding had broken his hip cycling just before the cook-off and could only manage to chop vegetables while remaining seated. (Ding went into hospital that evening and after surgery withdrew from the tournament.)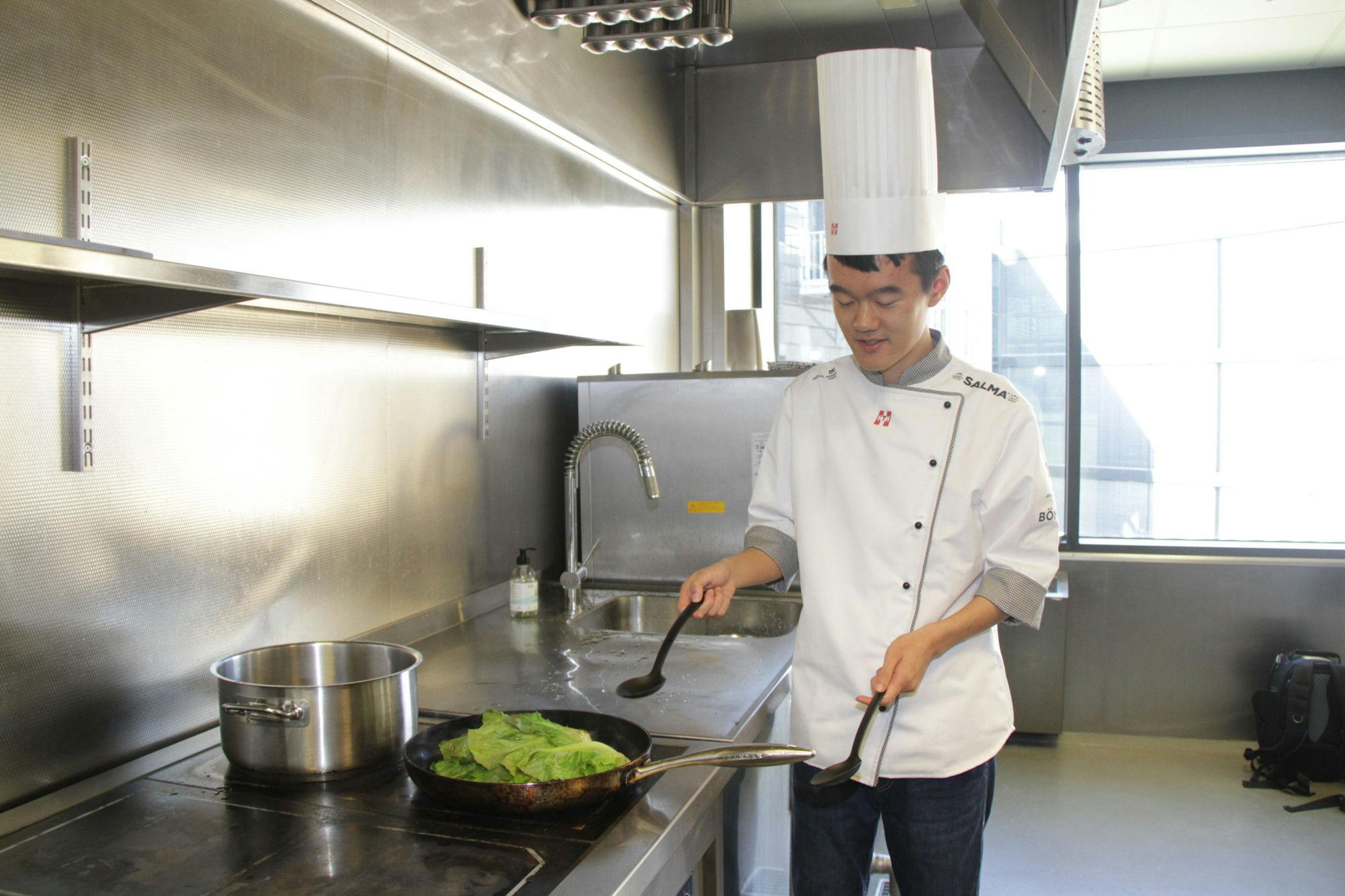 GM Ding Liren. Photo: Cathy Rogers
This year, with the event now sponsored by a cooking equipment supplier,  the degree of difficulty was upped considerably. Each pair of players was allocated a top chef – a candidate to represent Norway at the Bocuse d'Or, the World Championship of cooking – and asked to work as a team to produce a creative dish featuring salmon. The teams would be judged on taste, presentation and the more nebulous category teamwork.
The key ingredient was clearly chosen to assist World Champion Magnus Carlsen since it is well known that every Norwegian child learns to cook salmon, the national fish, by age 5. Curiously Carlsen seems to have forgotten everything he learned about cooking salmon, perhaps pushed out of his brain by the need for extra space to recover the Najdorf Variation, and he described the cooking contest as "one of the biggest challenges in my life."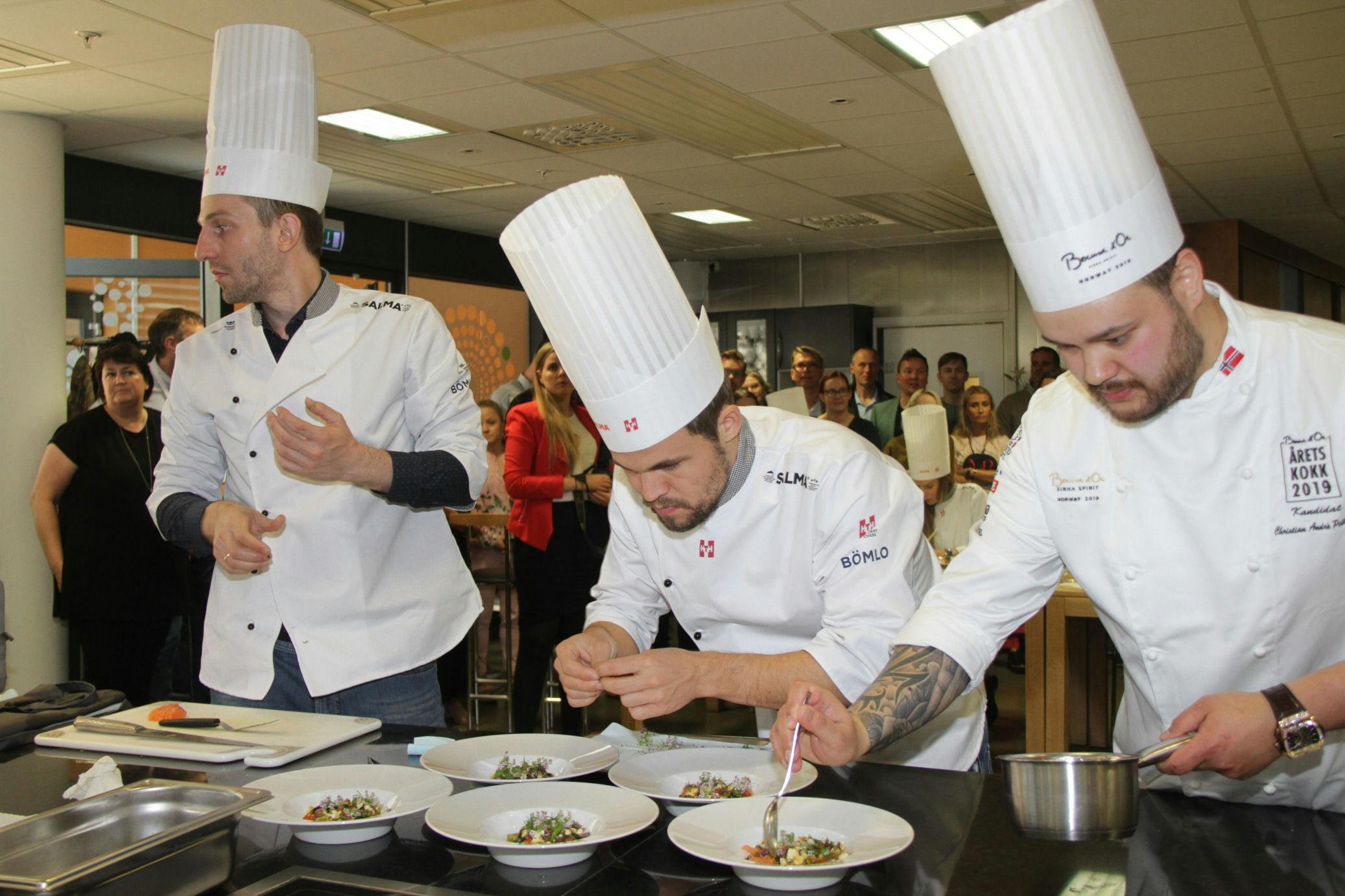 Team Grischuk/Carlsen. Photo: Cathy Rogers
After 15 minutes to plan the dish with their chef and then select ingredients from a fruit and vegetable truck, players had 45 minutes to produce a gourmet dish. If this sounds straightforward, imagine a Grandmaster playing a tandem game with two 1,200 players and you can visualize the potential frustration of the professional chef. As one of the Michelin starred judges said – one who is next week heading to China on a promotional tour for Norwegian salmon: "They [the GMs] don't know what they are doing or what the final dish will be like, so they just have to execute what is asked of them." (Fun fact – Stavanger, a city of fewer than 140,000 people, has two Michelin starred restaurants.)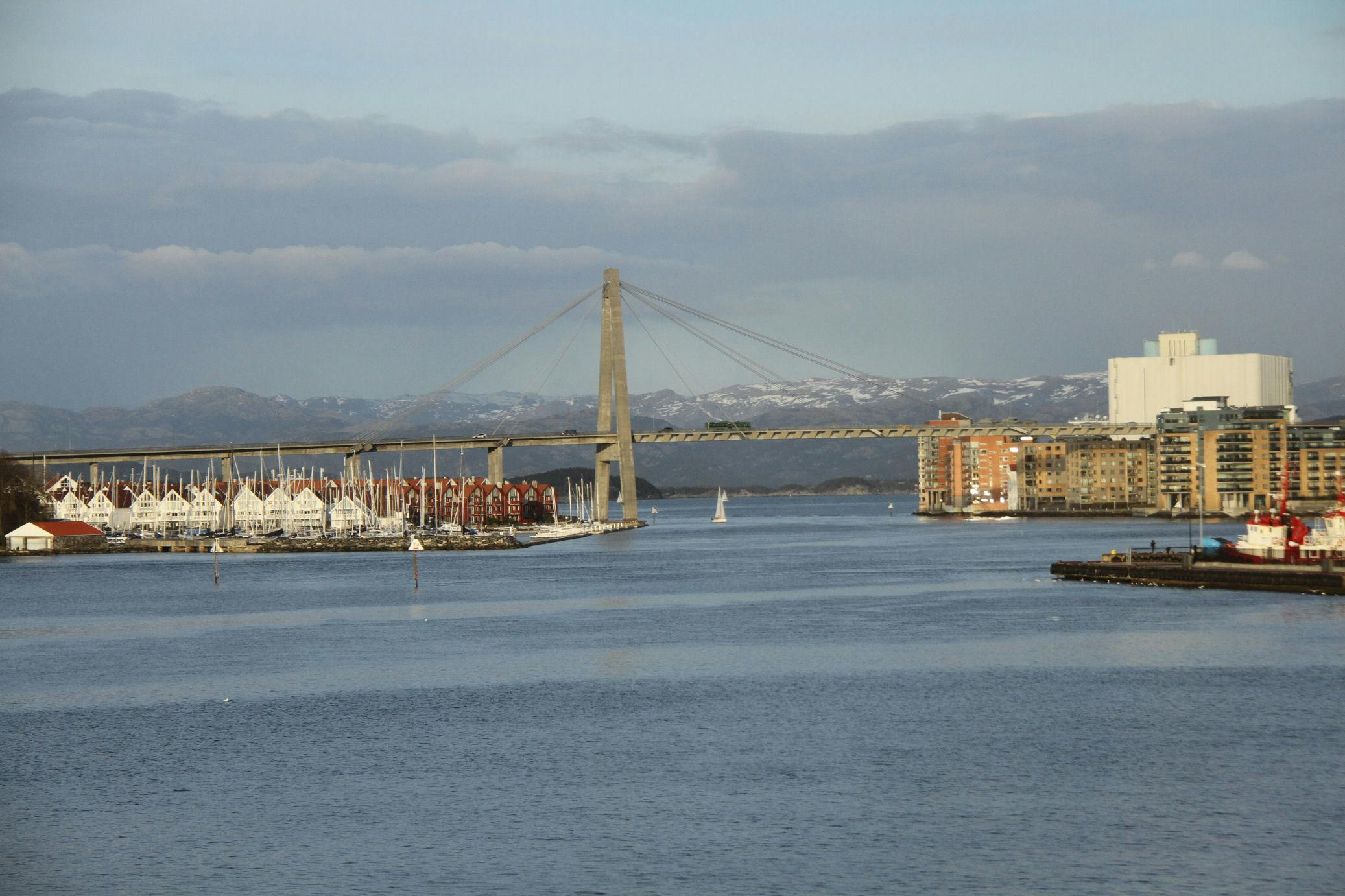 Stavanger, Norway. Photo: Cathy Rogers
The 2018 winning team had been split up, with players forced to spend more time with their round three opponent. Thus Anand was teamed with Maxime Vachier-Lagrave and Ding being appointed Fabiano Caruana as his partner. (Some feared the US-Chinese combination would produce a salmon burger with szechuan sauce but fortunately chef Marius Kjelsrud had other ideas.)
At first the omens did not look good for Team Anand/MVL. When asked by chef Filip Bendi to separate an egg and give him the yolk, Anand cracked an egg into a saucepan and then groped around to try to pull out the yolk. (MVL was then given the job, which he completed without drama.)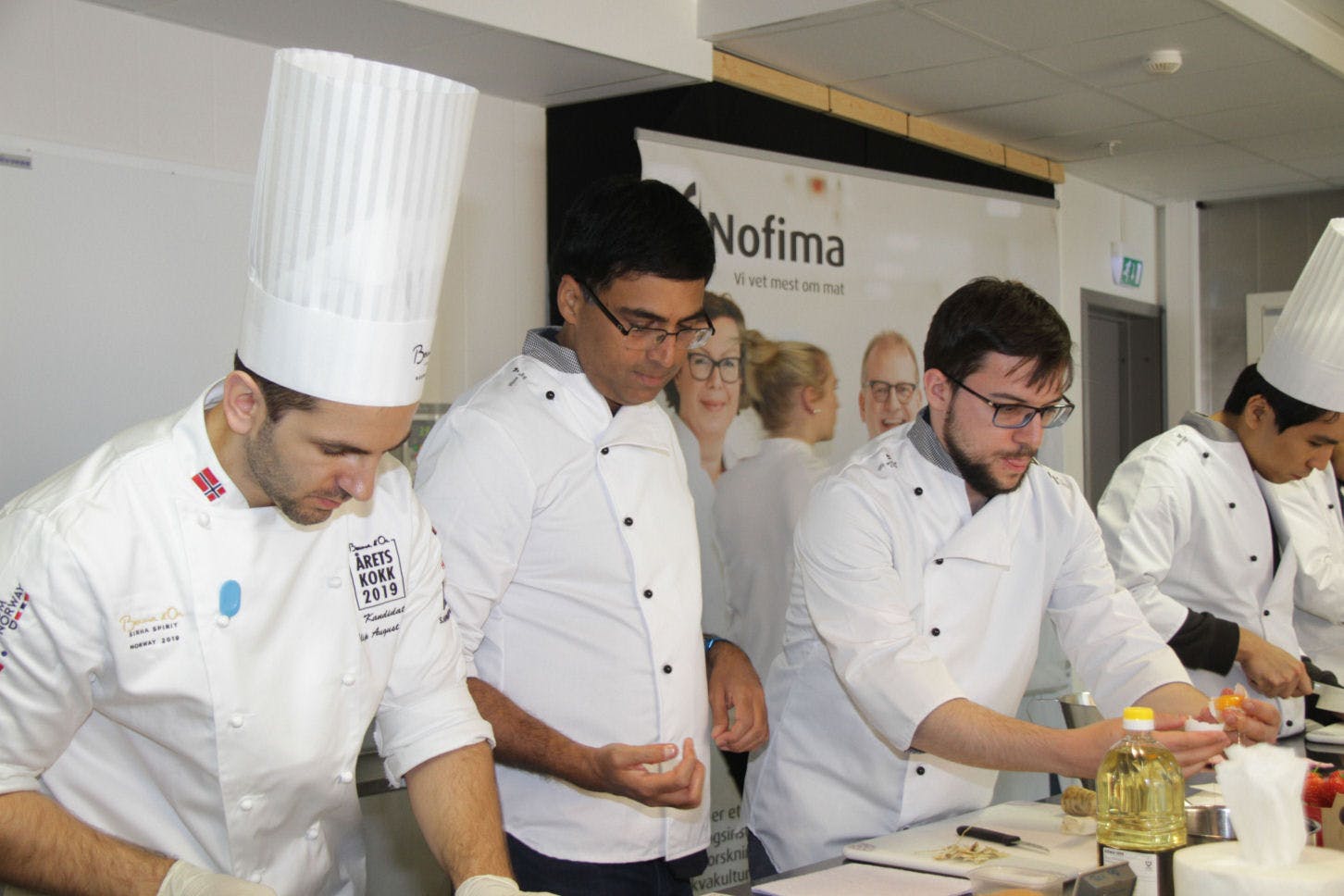 Team Anand/Vachier-Lagrave and the egg. Photo: Cathy Rogers
However other teams had their problems. Yu Yangyi needed a translator but she left him to his own devices halfway through the cook-off, since apparently his cooking level was the same whether he understood the instructions or not.
Yu's compatriot Ding made a bid for a second hospital visit by chopping into his finger but, declaring it to be just a flesh wound, the world number three cooked on, eventually taking third place.
One feature of the chessplayers impressed the judges; their continuous and intense concentration on the task at hand. While there were plenty of self deprecating jokes, when asked to perform a task, simple or complex, the players set about it as if it was the most important thing in the world. Technique might have been lacking but application was never in doubt and all seemed genuinely proud of their creations.
When the judging panel finished their assessments, Anand, with MVL, had won again with a perfectly cooked salmon and vegetable dish.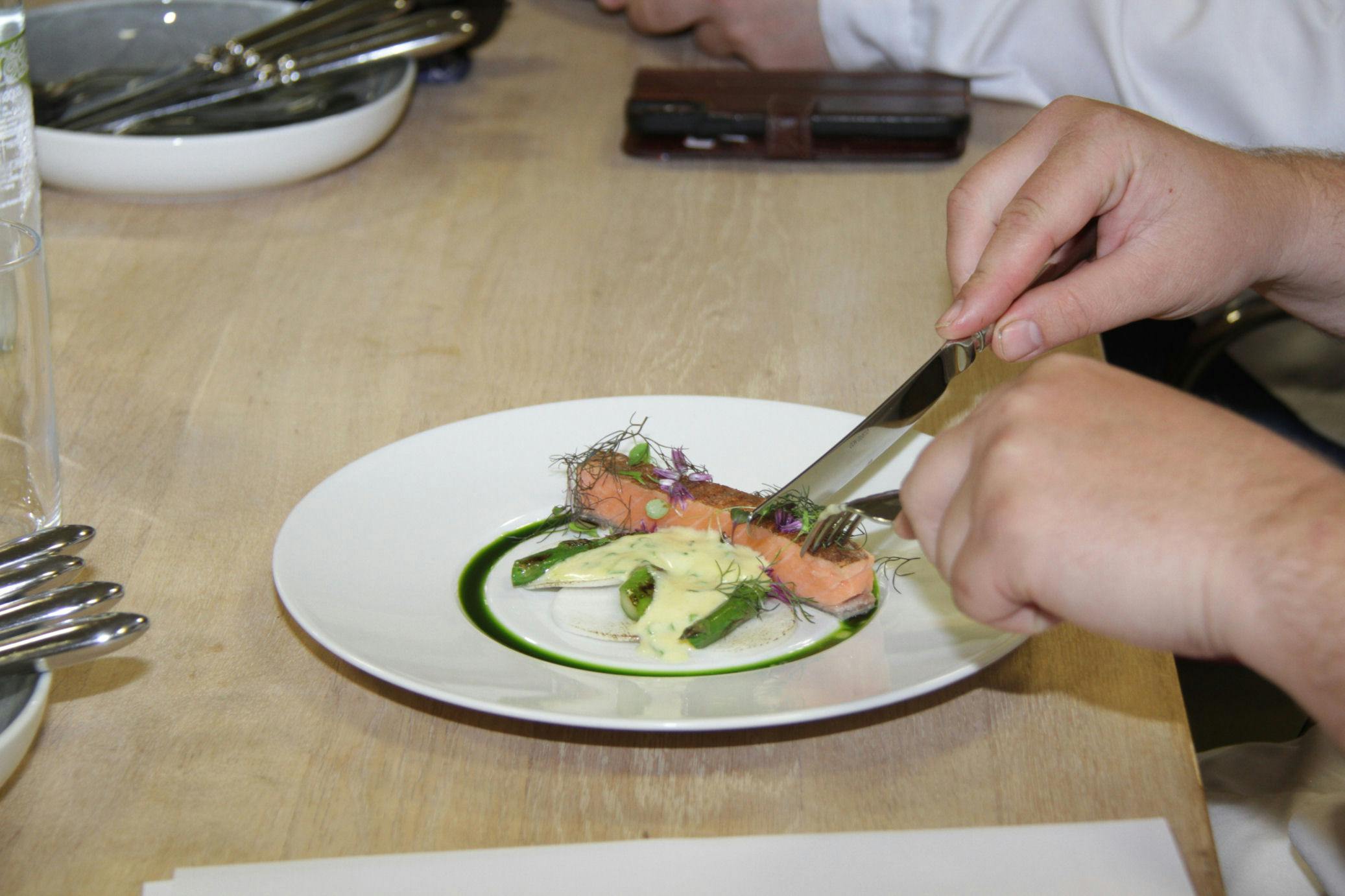 The winning dish. Photo: Cathy Rogers
Now describing himself as a Grandmaster Chef, Anand has come a long way since 1989 when his first effort at cutting up a tomato, in his late teens, resulted in a red squashed mess on the chopping board. 30 years on his technique may not yet be perfect but he has certainly acquired some basic skills. When and if Anand retires, Masterchef India is his logical next career move.
Of course the elite GMs have also been playing some chess while in Stavanger, though it bears repeating that Norway Chess 2019 has not been an ordinary supertournament.
In the early years of the Norway Chess tournament the organizers seemed content to try to host the strongest classical tournament in the world; a tournament which, following the 'slow television' revolution, generated hours of high rating prime time coverage for whichever Norwegian station won the broadcast rights.
In recent years the private station TV2 has been Norway Chess' official broadcaster and their team, including GM Jon Ludwig Hammer, has been very popular.
However the Norway Chess organizers, exploring ways to make chess even more exciting for the local audience, decided to adopt a 2-1-0 scoring system, with draws replayed in a 10 minutes v 7 Armageddon game, with the winner nabbing an extra point.
Armageddon games were hoped to make for great television, with White forced to take risks given that a drawn Armageddon game is considered to be a win for Black.
However the organizers admitted apprehension. Would strong rapid players head for draws and be satisfied with 1.5 points each round? Could a player win the event by drawing every classical game and would any of their invited players be practical/ cynical enough to try this?
As the early rounds unfolded their worries magnified. Five first round draws resulted in five Armageddon games with White winning four of them. Worse than that, Alexander Grischuk and Wesley So agreed to a draw after only seven minutes in the second round, bypassing the main game and heading straight for Armageddon.
The organizers' nerves became less frayed, however, after the third round which saw four decisive games and only one Armageddon game, easily held by Viswanathan Anand with Black against blitz king Maxime Vachier-Lagrave.
Meanwhile TV2 has been delighted. Viewer ratings, already high, have increased dramatically. (As moviegoers would know, with Armageddon you don't want to miss a thing.) How much of this can be attributed to the new format and how much to local hero Magnus Carlsen's stellar form in 2019 is hard to determine. (Carlsen had enjoyed a mixed year before finishing second to Fabiano Caruana in Norway Chess 2018 and has often disappointed in Stavanger.)
There has been criticism that the scoring system gives too much weight to the Armageddon games but Anand declared that it was far too early to draw any firm conclusions, saying: "Only when we get to the third or fourth tournament we will be able to draw some conclusions."  
Yet there is no doubt that the new format has changed players' attitudes to the classical tournament. This emerged clearly in the first round when Ding played solidly with White against Wesley So only to unleash a far more dangerous system in the Armageddon game.
https://lichess.org/study/kb6ZQylV/nEyYDirM
As at almost every event he has played this year, Carlsen has taken the early tournament lead, beating Grischuk in a classical game and winning two Armageddi. (Readers' advice as to the correct plural for Armageddon is gratefully received. The end of the world must have seemed unlikely to happen twice so until now there probably was no need for a plural for Armageddon.) However Carlsen was in desperate trouble against Aronian in round two and does not seem to be in quite the form the world saw at Shamkir and Baden Baden in April. Even so, given Carlsen's apparent dominance at the Armageddon time limit, the World Champion will have to lose more than one classical game to fail to win his second Norway Chess title at his seventh try.

Standings after Round 3
Ian Rogers' second report for Lichess from Norway Chess will appear on June 11, with less cooking and more chess! Follow the Round 4 games live at 15:00 GMT on June 8th here. Stay tuned to our standard communication channels for details: