A very close affair
Nihal Sarin takes gold in a nailbiting TA finish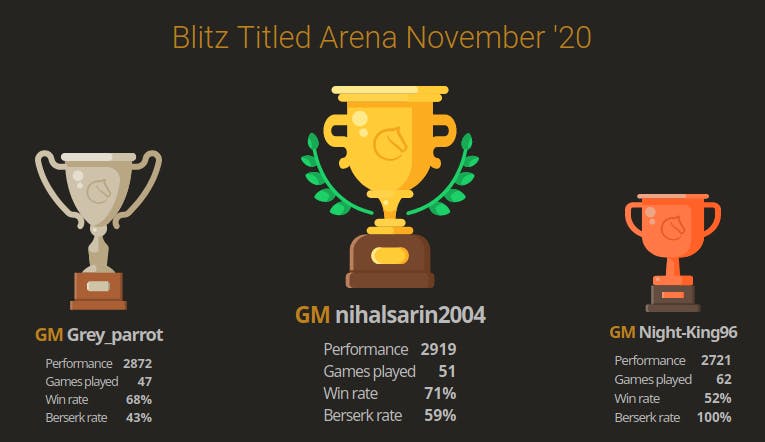 In a very hard fought battle, GM Nihal Sarin (@nihalsarin2004) won his first Titled Arena. Second place, GM @Grey_parrot, remains anonymous. Third place went to TA regular GM Oleksandr Bortnyk (@Night-King96) with 100% berserked games. Fourth Place was taken by anonymous GM @Uzbek005 and fifth by 14 year old GM Raunak Sadhwani (@Raunaksadhwani2005).
This TA was a spectacularly close 3+0 battle over 3 hours. It was streamed by a lot of players. For instance GM Anish Giri (@AnishOnYoutube) and GM Andrew Tang (@penguingim1). Anish Giri started 1 hour late, but still managed to get to 6th place. In this arena it seemed again that berserk is the strategy to go, with a berserk of 32% in total, being much higher in the top 10. With only 2 players in the top 10 with less than 50% Berserk. Although fifth place GM Raunak Sadhwani did manage to get there with 5% berserk only, keeping his streaks alive for a long time. In the end he got the highest win percentage (77%) and also the highest performance (2936) in the top 5.
But enough statistics. The arena was very close this time and streaks and berserking seemed to be key to win. Nihal Sarin was in the top 10 through most of the event and took the lead for some longer periods, but always was caught up again by the rest of the field. At the start it seemed as if GM Vahap Sanal (@BlueGreenSun) was taking a few points lead, but he was caught by the other players after his streak of 10 wins ended. Through the event a lot of old Titled Arena winners popped up in the top 10 like anonymous GM @Mario_Zagallo and GM Vladimir Fedoseev (@Feokl1995). With only half an hour left the field was as close as ever. Only 7 points between 1st and 10th place. With 18 minutes to go Nihal Sarin was 10th and over 10 points behind. But he managed to keep his streak alive, winning his last 9 games. In the end it seemed like he won an easy victory, being 12 points ahead of second place. Second place GM Grey_parrot only broke into the top 10 with 10 minutes of the arena left, also with a streak of 9 games in the end. All this making this one of the, if not the closest Titled Arena so far. The next Titled Arena will be on November 21st.
Catch a recap video of the race below: