Another Titled Arena, Another Mystery Winner
and the winner is... We can't say. Again.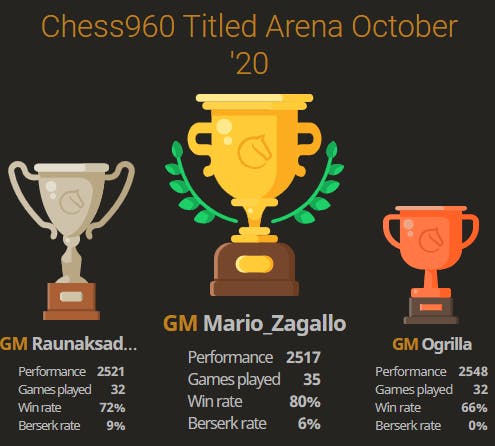 The Lichess Chess 960 Titled Arena took place yesterday and typically these blog posts announce the winner. Unfortunately, that won't be possible this time... again. 
Another anonymous GM has taken the top prize in a dominating performance. I'll spare you the ruminations on anonymity like last time and focus on the event itself. GM Mario_Zagallo picked up the lead after 1 hour and 15 minutes of the 3 hour event was gone, and at the 2 hour mark was pulling away. If they were bothered at all by the pieces being set up wrong at the beginning of every game it wasn't easy to notice. These events are often decided by streaks and yesterday's winner put together a 14 game winning streak towards the end that was hard to match. This accounted for 52 of their 98 total points scored in this event. 
Rounding out the podium were 14-year-old GM Raunak Sadhwani in 2nd, and GM Grigory Oparin in third. Another anonymous GM, Feeglood finished 4th and Titled Arena mainstay GM Andrew Tang finished 5th, playing for the first time with his C9C9C9C9C9 account, a reference to his signing with eSports giant Cloud9.
GM Srinath Narayan streamed the event for the Lichess twitch page, which we've been investing some energy into lately. At the time of writing, a web-developer-focused stream on setting up the Lichess dev environment has just finished, capping off a week that featured GMs Peter Svidler and Nils Grandelius. All the streams end up on the Lichess Youtube channel if you've missed them. You can also follow the Lichess account here or a special team we've setup to send PMs for Lichess streams and videos.
The next Titled Arena is in about 2 weeks. See you then!