Mystery Master wins September Lichess Bullet Titled Arena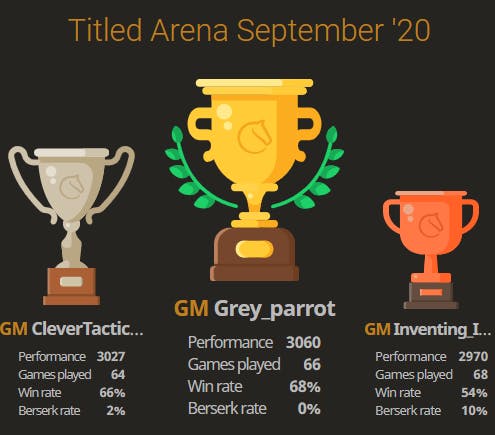 Why does Lichess allow anonymous users? Or why does it allow anonymous users to play in Titled Arenas at least? The first question is very simple: everyone on the internet has the right to be anonymous and websites have the responsibility to protect their identity as far as they can- if they even know their identity! The second question is not as simple. Other chess websites require their titled-only competition participants to publicly identify to play. Lichess could presumably do the same.
One small but important point is that anonymous GMs aren't anonymous to Lichess, all users with verified titles have proven their identity, it's only the public who doesn't get to know. It's possible that Lichess will one day oblige Titled Arena participants to reveal their identity to the public too, but at the moment we don't. Perhaps forcing IDs would cause some very strong players to stop playing, we've noticed that anonymity is very important to the Super-GM crowd. 
Almost forgot! A Titled Arena was played yesterday!  It was won by GM Grey_Parrot who we can confirm is a person and plays chess, beyond that dear reader, you will have to figure it out on your own. They were around the top of the leaderboard all day, but took the first prize with an incredible finish, scoring wins in 14.5 of their final 15 games. The final standings give the impression of a runaway winner when the event was extremely close for 115 of the 120 minutes. 
GM Maxime Vachier-Lagrave had a commanding 7 point lead with 15 mins remaining but struggled at the end, losing his last 7 games. This, combined with the incredible surge of Grey_Parrot left him 6th in the final standings. 2nd was taken by bullet super-star GM Andrew Tang who mentioned at the end of his stream that it's important to take advantage of any TA that doesn't include either Magnus or Alireza, as those events don't come along often. 3rd was taken by 17-year-old GM Arjun Erigaisi, and fourth and fifth by Dutch IMs Vincent Rothuis and Thomas Beerdsen.
GM Nihal Sarin streamed his participation on the Lichess Twitch channel, which has been getting more use lately with streams from GM Boris Gelfand, GM Vassily Ivanchuk and IM Eric Rosen among others, all co-hosted by WFM Maria Emelianova. It's even possible to subscribe now and unlock the use of the Lichess Logo and its far superior cousin Horsey as emotes, stay tuned for more information on big events coming up.