GM Andrew Tang Wins Lichess Titled Arena 5
T. Alexander Lystad (@arex)
Chess
World Champion Magnus Carlsen's dominating winning streak comes to an end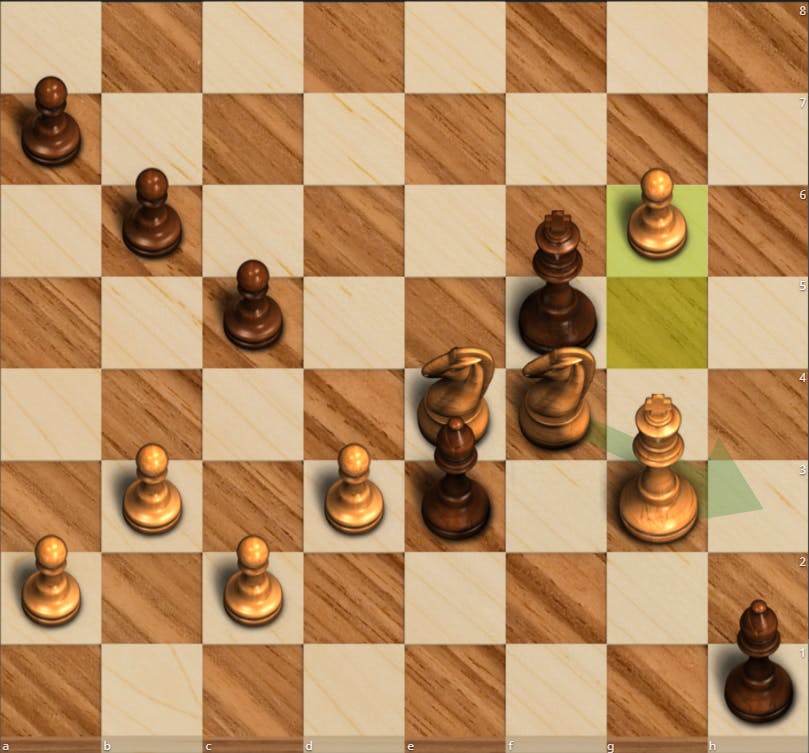 On Star Wars Day, in the 5th event of its kind, we got to see 237 titled players, including 44 GMs, participate in two hours of bullet craziness. Would World Champion Magnus Carlsen continue his total domination of the Lichess Titled Arenas, or was it time for someone else to take home the jackpot first place prize of $3,000?
Magnus, the quadruple Titled Arena Champion, started the tournament livestreaming his participation on Twitch, but a suspicious internet connection quickly forced him to play the rest of the tournament without livestreaming. GM Andrew Tang (@penguingim1), who streams frequently, was also noticeably missing from Twitch, choosing not to stream in order to increase his chances of winning the event.
Twenty minutes into the event, GMs Arka50, Andrew Tang (@penguingim1), and Matthias Bluebaum (@msb2) were leading the tournament with Magnus Carlsen (@DrDrunkenstein) far behind. Despite Magnus making significant progress towards catching up, the last part of the tournament turned into a close battle beetween GM Andrew Tang (@penguingim1) and 14-year-old Iranian GM Alireza Firouzja (@alireza2003) for first place.
Fighting for the top spot, with only five minutes left of the tournament, they were paired for a bullet game. This game would likely decide which of the players got to go home with the first place prize of $3,000, and who would get the $250 2nd place prize. This was a $2,750 bullet game.
Andrew got the advantage early on in the game and held it for a while. Alireza managed to equalize on move 49 and built up an advantage before blundering a piece and the game with 73. g6. Andrew had won the game, the tournament, and the $3,000 first place prize. In this event there were prizes for the top 5 finishers:
As spectators, we've gotten used to being spoiled in terms of streamers for these events. As usual, we had about 20 people livestreaming the tournament. Most were titled players and participated in the event, e.g. GM Cristian Chirila (@TheCountt), GM Akshat Chandra (@BabaRamdev), IM Eric Rosen (@EricRosen) and CM Tryfon Gavriel (@Kingscrusher-YouTube). As for kibitzers, IM Christof Sielecki (@ChessExplained) provided the official commentary, NM ChessNetwork covered Magnus exclusively in his coverage of the event while FM Norbert Barth (@zumpili) provided more varied coverage.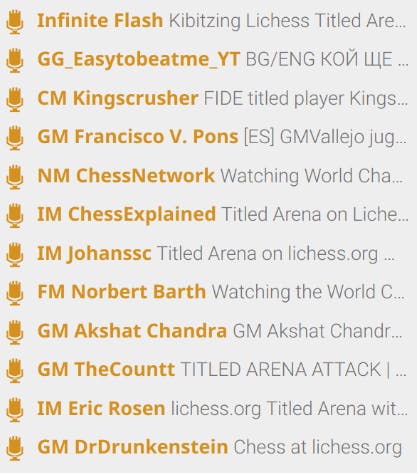 The streamer list from the lichess.org front page at the start of the tournament
The next Titled Arena will be held roughly a month from now; the exact date and time will be announced later. Stay tuned to our standard communication channels.