Lichess Study and Our Favorite User-Created Content
T. Alexander Lystad (@arex)
Chess
Analyzing and studying chess with Lichess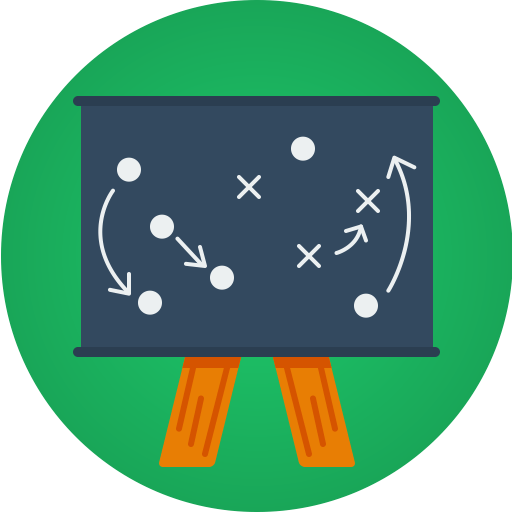 Lichess Study is a part of Lichess that lets users analyze and annotate chess games, variations and positions. Study can be used to analyze your own games, study famous games, learn a particular opening or endgame, build and organize your opening repertoire or collect your favorite puzzles.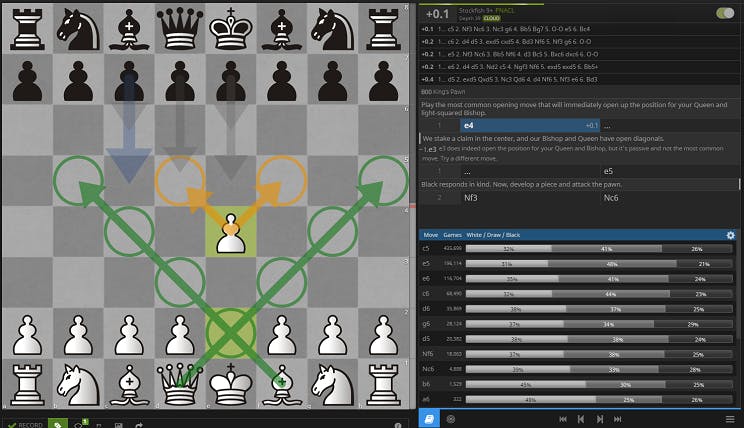 Lichess Study with engine analysis and opening database features enabled.
Study has analysis tools like engine analysis (Stockfish 9) and two opening databases (Lichess games and Master games). Every position can be annotated with symbols (!, ?, !!, ??, etc.), shapes (arrows and circles on the chess board) and text commentary.
Your work is saved, so you can refer to the material or continue studying later. Lichess Study also has real-time collaboration, so you can study with your friends, or a professional coach. You can also choose to share your work with particular users or make it public for everyone to benefit from.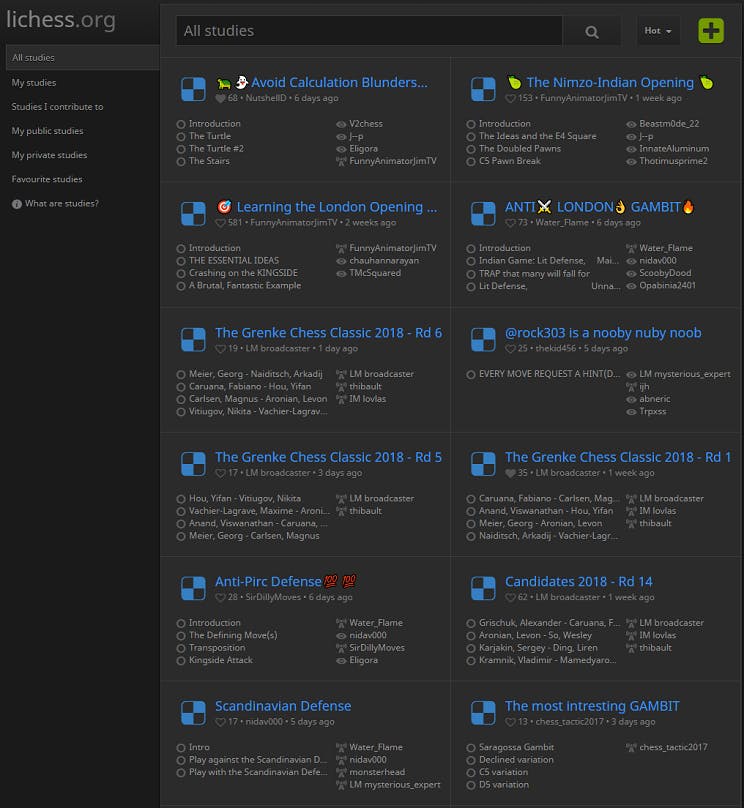 Studies can be searched and sorted by current popularity, all-time popularity, created date and updated date.
Below are some great studies from our study database, created and shared by our users.
Opening Studies
Perhaps unsurprisingly, a large percentage of user-created studies are about openings. Our second most popular study of all time is about the Sicilian Defense. Interested in the Fried Liver Attack? Here's the study for you. IM Eric Rosen has published a study on London Opening games you should know by heart. If you play, or are considering playing, the Nimzo-Indian, you might want to take a look at this 15 chapter long study on the opening.
Search for any opening in the study database, and you are likely to find something interesting or useful.
Trap Collections
Our most popular study of all time is a collection of 22 opening traps. We also have collections of traps for specific openings like the English and the Queen's Gambit.
Endgame Studies
After checking out this study covering pawn endgame fundamentals, you may want to test yourself with this collection of 20 endgame exercises. Assuming you're not exhausted yet, you could finish with this study on bishop and rook endgames.
Game Collections
CM Kingscrusher-YouTube has published a great study on the 2016 World Chess Championship. It has all the games from the 2016 Carlsen-Karjakin match, analysis from KC himself, and there are even YouTube videos embedded into the study. If you like the YouTube embeds, you can also check out this game collection of four GM Ben Finegold games from the 2017 ALOHA Tournament.
If game collections is your thing, you may also want to check the Lichess live tournament broadcasts. From there you can find lots of game collection studies, containing games from for instance the 2018 Candidates Tournament and the Grenke Chess Classic 2018.
General Advice
This study contains advice on how to avoid blundering, while this study describes what the author claims to be the most common mistake in chess.
Our third most popular study of all time, is the first study in a ten-study series, walking you through 101 general chess principles with example positions. Here they all are in order:
Variants
Lichess Study also supports chess variants. This study is meant as an overview and introduction to the different variants we support on Lichess. If you're into Antichess, check out this tactics course and these fundamental endgames. If Atomic is more your thing, you might find this very detailed opening study interesting. Similarly, an enthusiast presents Racing Kings opening theory over 52 chapters in this study. If you're considering starting a Three-check career, make sure to avoid these beginner mistakes.
In Conclusion
As you can see, Lichess Study is a comprehensive analysis, learning and teaching tool which is used on a daily basis by many of our users. Use it on your own, with friends, with a coach, or check out the large amount of user-created content available to you. Maybe you have something you would like to share with the rest of Lichess? If you know of other good studies that have not been mentioned in this blog post, feel free to mention them in the comments.
In the next blog post, I'll cover an advanced and relatively new Study feature in more detail, namely interactive lessons.