Karjakin Catching up Fast in Round 11 of the Candidates
Caruana still in the lead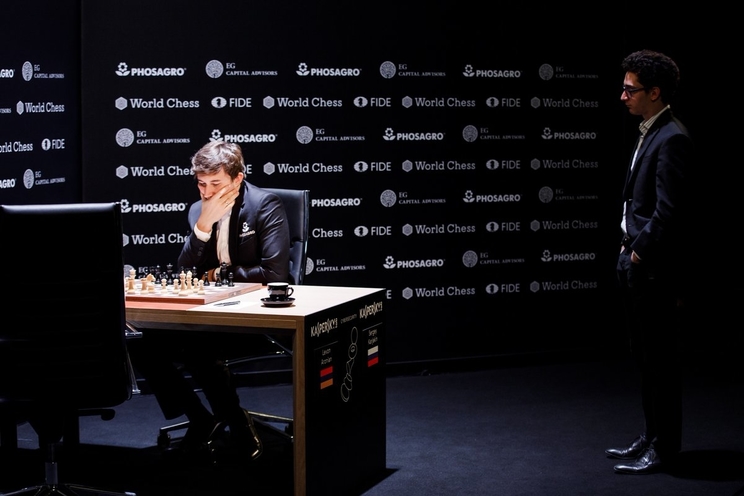 Sergey Karjakin continues his incredible comeback and is now only one point from leading the tournament after defeating Levon Aronian. For now though, Fabiano Caruana remains the sole leader after drawing Vladimir Kramnik. Ding Liren is surely kicking himself after throwing away a golden opportunity and drawing with Alexander Grischuk. The Shakhriyar Mamedyarov vs Wesley So game ended in a draw.
Levon Aronian - Sergey Karjakin
After a long and tense battle, Aronian curiously declined to defend a pawn with the move 42. a5 and instead gave it away by playing 42. Bc3. Whether this move was an oversight or an intentional sacrifice will have to remain a mystery, as a noticeably quiet Aronian had nothing but one-word replies for the press after the game. After the pawn loss, it was clear that the game was in Karjakin's control and he collected the full point 30 moves later.
For the first four rounds of the tournament, Karjakin had only managed to collect a single point. Since then, he has come roaring back into contention by collecting five points in the previous seven rounds. Tomorrow, he will play against tournament leader Caruana. A win would not only bring them even but also give Karjakin the head-to-head tiebreaker.
https://lichess.org/study/jdo8Oiqa/MxLv58D1
Fabiano Caruana - Vladimir Kramnik
There was a rare sight today, as on move five of this game the totally unknown 5...c5 was played. Novelties are usually seen much later in the game when dealing with players of this caliber. Kramnik was surprisingly honest about what his plan was when he later called the move "bad", and "a bluff". In any case, the move did its job reasonably well, as after about ten more moves Kramnik seemed to have equalized. The resulting endgame gave Caruana the two bishops in exchange for a worse pawn structure, but neither side could make much progress. Shortly after the second time control, the two players agreed to a draw.
https://lichess.org/study/jdo8Oiqa/php78BZR
Ding Liren - Alexander Grischuk
Ding completely outplayed Grischuk at the beginning of this game. He was overrunning Grischuk with a combination of two beautiful pawn sacrifices; 22. d5! and 23. e6! After this, Grischuk was about as losing as you can be in a chess game without a forced mate. However, Ding then missed what should have been the coup de grâce with 29. Nd8! and suddenly Grischuk was not completely losing, just regular losing. Ding must have been starting to get nervous over the next few moves as Grischuk refused to lose. Finally, Ding was an exchange up but in a very simplified position with real chances to draw. You may have guessed where this is going by now. Ding was finally forced to accept a draw after 96 moves.
https://lichess.org/study/jdo8Oiqa
Wesley So - Shakhriyar Mamedyarov
I think it's safe to say that the Catalan is now the opening of the tournament. In this game, another Catalan led to a very drawish bishop endgame. The players continued on gamely but there was very little possibility of either side scoring more than a half point. Shortly after the second time control they agreed to a draw.
https://lichess.org/study/jdo8Oiqa/Sd7bQAX6
Round 12 starts tomorrow at 14:00 UTC. The pairings will be Karjakin-Caruana, Grischuk-Aronian, Kramnik-So, and Mamedyarov-Ding. You can follow the action with the official Lichess live broadcast, Twitter, YouTube, or Facebook.