Caruana Still on top After Round 9
Meanwhile, Kramnik has another bad day.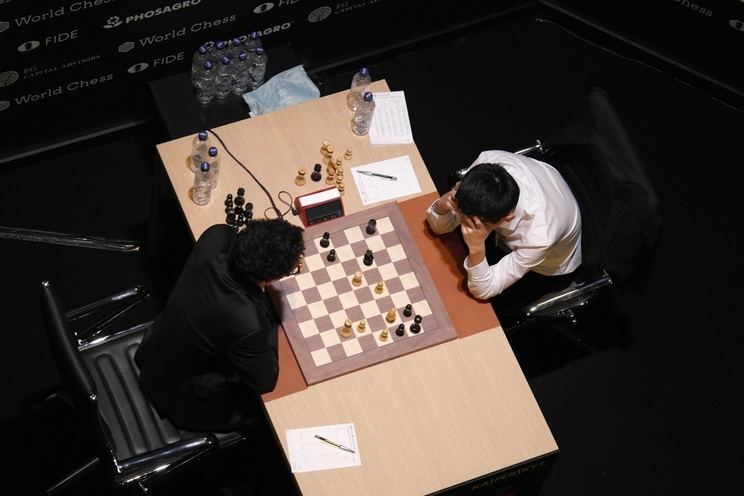 Fabiano Caruana drew Ding Liren and is still in the lead after round 9 of the Candidates tournament. Vladimir Kramnik suffered another loss, this time to Sergey Karjakin. The other two games were drawn.
Fabiano Caruana - Ding Liren
It's possible that Caruana has never had a clearly worse position in this tournament, with the exception of the Kramnik game (which he eventually won). He's done an excellent job of "playing for 2 results," i.e. never risking much while still keeping alive chances to win. After some flashy introductory tactics in this game, we reached an excellent "2 results" position for Caruana. Ding struggled and struggled, and his best case scenario was never better than stealing a draw. Unfortunately for Caruana, Ding did steal a draw. It seems that Caruana could have won with 62. Rd2 or 66. Nf8+, but he was unable to find either move.
https://lichess.org/study/yM3INay9/wPucciYI
Levon Aronian - Shakhriyar Mamedyarov
This game featured yet another Catalan opening. In fact, the position in the game after move seven was the same as in Mamedyarov's game yesterday with the exception that he was playing Black. Aronian achieved a better endgame, but threw away his advantage with 32. b3. After the game, Aronian called this move a "crazy blunder." He missed that the Black king could capture on e5 and scurry away to safety. Fortunately for Aronian, his position was so good that losing this pawn only led to a draw, and not a win for Mamedyarov.
https://lichess.org/study/yM3INay9/bwjSQvnN
Sergey Karjakin - Vladimir Kramnik
The game started with a Semi-Tarrash defense and Karjakin got to unleash one of those opening novelties that all of these guys supposedly hoard for tournaments like this. 9. h4 is not a typical Karjakin move, and he credited it to his second GM Alexander Riazantsev. Kramnik responded with the surprisingly un-Kramnikian 11...f5. The resulting complications didn't favor him and Karjakin got a good position. Kramnik sacrificed a rook to expose the opposing king and Karjakin got a chance to add to his reputation of sturdy defense. Eventually, Karjakin's pieces formed a protective cocoon around the king, and it was clear he had consolidated with a huge advantage. Kramnik resigned shortly after the time control.
This loss is only the latest in a shocking downward spiral for Kramnik. After finishing round 3 in the lead, he has scored 1 point in the following 6 games.
https://lichess.org/study/yM3INay9/XShJ7adD
Wesley So - Alexander Grischuk
Wesley So played a drawish line as White. The pieces were quickly vacuumed off the board and on move 34 the players agreed to a draw. The most entertaining part of this game was Grischuk's delightful performance in the press conference. He touched on subjects ranging from pre-arranged draws to Lebron James.
https://lichess.org/study/yM3INay9/XMFc7meD
Wednesday is a rest day and the action resumes on Thursday with round 10. The pairings will be Grischuk-Karjakin, Kramnik-Aronian, Ding-So, and a very big game: Mamedyarov-Caruana. These are the #1 and #2 ranked players in the current standings and the game could end up deciding the eventual winner. You can follow all of the action on the lichess YouTube, Twitter, and Facebook. WIM Fiona Steil-Atoni will be covering the event for Lichess and you can see her round 9 recap here: