Kramnik Falters in Round 8 of the Candidates
Caruana maintains the lead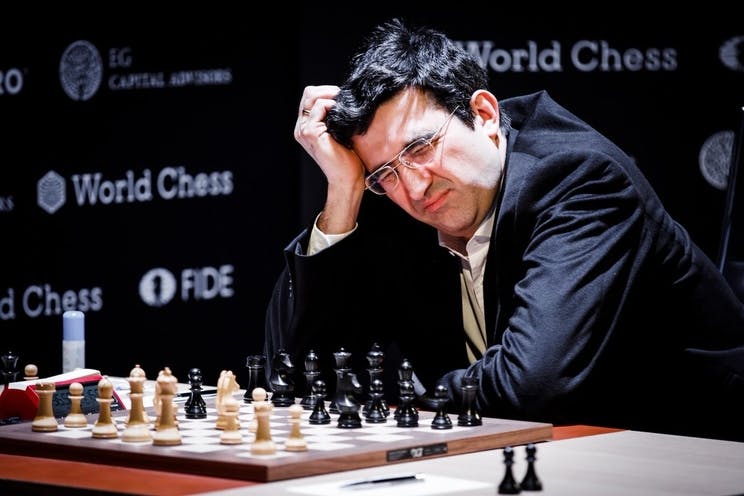 After round 8 of the Candidates tournament, Fabiano Caruana remains in the lead after drawing Wesley So. Alexander Grischuk moves up to third after beating Vladimir Kramnik, and the other two games were drawn.
Alexander Grischuk - Vladimir Kramnik
Vladimir Kramnik was yet again responsible for the longest game of the round after this 91 move marathon. Grischuk's opening went well and he won a pawn, but Kramnik's position was still defendable. On move 31, Kramnik declined to win back his pawn with Bxc3. Although he denied it later, it led some commentators to wonder if he was playing for a win. The last chance for a draw was 76...Bf3, but Kramnik missed that as well and the game was too far gone. This loss is Kramnik's third in four games.
https://lichess.org/study/rRgdMZEp/kRMvvhBh
Shakhriyar Mamedyarov - Sergey Karjakin
A partisan might claim that Mamedyarov  was slightly better throughout this game, but it was probably closer to equal. Mamedyarov admitted after the game that he was disappointed to not have generated more pressure. Having worked as Karjakin's second in the past, notably in the 2016 World Championship match, it must have been difficult to find opening surprises against somebody who previously hired you to show them everything you know. The game was drawn by repetition on move 30.
https://lichess.org/study/rRgdMZEp/GBHMkz3u
Ding Liren - Levon Aronian
Aronian was a popular pick to win this tournament before it started. It obviously hasn't gone as well as he would have liked. Nonetheless, hope springs eternal, and he isn't the type to just make draws and wait for the tournament to end. The game started with an open and unbalanced English opening. Ding took a pawn that couldn't be kept forever, and it set off an interesting tactical sequence that left Aronian down a pawn with chances to hold a draw. Despite the disadvantage, Aronian resisted well and was able to secure a draw by repetition on move 41.
The stylistic differences between the two players couldn't have been clearer in the press conference after the game. Aronian mentioned the line 12 0-0 Bxf3 13 Bg5! Bxg2! 14 Bxd8 Bxf1, a typical Aronian-esque flight of fancy. He then peeked at Ding to prompt him to reveal what he thought about it during the game. Ding sheepishly admitted he hadn't considered the line at all.
https://lichess.org/study/rRgdMZEp/SGPetTKU
Wesley So - Fabiano Caruana
Judging by the opening, Wesley So was not afraid of drawing this game. It's hard to criticize, given how poorly the tournament has gone for him and how well Caruana is doing. The queens came off on move 8 and Caruana later said he thought he already had the more comfortable position at this point. Wesley So then won a pawn at the cost of getting his knight trapped on b7. The price for that knight's freedom was an exchange sacrifice on e5. Through all the tumult it may have seemed like somebody should be winning, but the position remained only slightly favoring Caruana. The position simplified down to a pure king and rook vs. king and knight, and Caruana whimsically played 64. Rxg2 to force a draw by insufficient material.
https://lichess.org/study/rRgdMZEp/xppVTXQr
Round 9 starts tomorrow at 14:00 UTC. The pairings will be Karjakin-Kramnik, So-Grischuk, Caruana-Ding and Aronian-Mamedyarov.