Kramnik toppled by Caruana in 4th round of Candidates
A cruel finish after six hours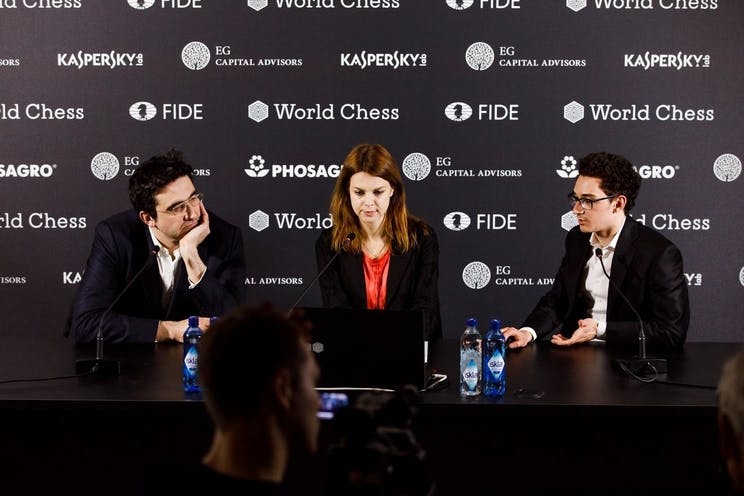 The Candidates put on quite a show on Wednesday. Kramnik lost in heartbreaking fashion to Caruana, who leapfrogged him and is now the tournament leader. Meanwhile, Grischuk and Ding also played a spectacular game, but it fizzled out to a draw. Aronian bounced back nicely from the steamrolling he took from Kramnik in the previous round with a win versus Karjakin. Wesley So and Mamedyarov drew a very reasonable game that unfortunately had to compete with its far flashier brethren for attention today.
Vladimir Kramnik - Fabiano Caruana
Nobody anticipated that this game would be the game of the day: after all, by move 8 the queens had been traded and it seemed that the Petroff defense was living up to its boring reputation. However, there were still plenty of pieces on the board and the game quickly spiraled into rougher waters. Caruana seemed to have slightly the better of a quiet position when Kramnik lashed out with 23. c5. After a long tactical sequence, Kramnik had two pawns for a knight, but critically all six pawns for BOTH sides were passed. This led to a massively complicated game of space invaders as both sides' pawns marched toward queendom. As the second time control approached, Kramnik was very low on time, but he found himself in a defensible position. Unfortunately, after six hours at the board, the 42-year-old Kramnik finally faltered. One move before he would have been given extra time to think, he threw it all away. The victory for Caruana means he moves into clear first with Kramnik and Mamedyarov half a point behind.
https://lichess.org/study/4gpEBHLN/x5wC9EGM
Alexander Grischuk - Ding Liren
For the second round in a row, a worthy game was overshadowed by drama on Kramnik's board. Grischuk and Ding played a very sharp and theoretical Semi-Slav. Grischuk turned the sharpness up to ten by sacrificing his knight with 12. Nxf7 to expose the enemy king. If you look in the database, you will see this move played by paragons of aggressive chess like Topalov and Shirov, and both players surely studied this line deeply before today's game. The game continued in a violent equilibrium for a while with Ding's monarch neither being checkmated nor escaping danger completely. Grischuk managed to win back his sacrificed material, but in the meantime, one of Ding's pawns had snuck off to the second rank. Grischuk was eventually forced to trade down to an endgame where Ding's dangerous passed pawns would be countered by opposite-colored bishops and the players agreed to a draw.
https://lichess.org/study/4gpEBHLN/IHwadoy2
Sergey Karjakin - Levon Aronian
Aronian bounced back nicely from a brutally deflating game against Kramnik in the last round and defeated Karjakin to return to a 50% score. Karjakin sacrificed two pawns and apparently overestimated how much compensation he had as Aronian slowly consolidated his extra material.
https://lichess.org/study/4gpEBHLN/LDn9ykLo
Shakhryar Mamedyarov - Wesley So
It would be inaccurate to call this game a short draw but by today's standards it might be true. The half point put Mamedyarov tied for 2nd and he didn't have to play six hours to do it!
https://lichess.org/study/4gpEBHLN/SMhmOKk1
Round 5 starts today at 14:00 UTC. The pairings will be Aronian - Grischuk, Caruana - Karjakin, Ding - Mamedyarov, and So - Kramnik.