Lichess Titled Arena 2
The strongest Arena-style tournament returns for a second edition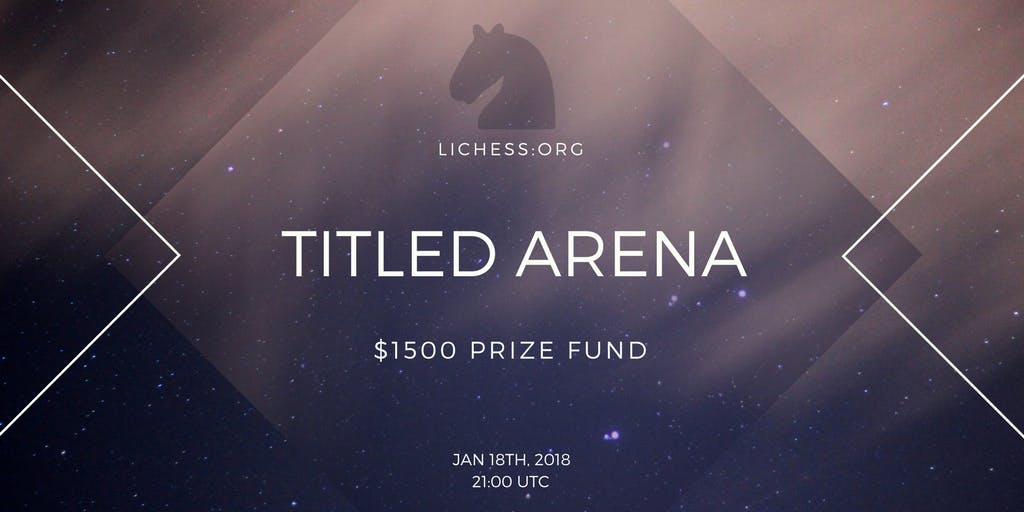 118 titled players joined our inaugural Lichess Titled Arena tournament, which after 2 hours of intense competition, was won by none other than world champion Magnus Carlsen! Magnus chose to donate his prize of $500 back to Lichess, to increase the first prize of the next Title Arena. The remaining $1000 is donated by an anonymous chess philanthropist. A big thanks to both! Consequently, this tournament will have a first prize of $1000! The tournament will be streamed by ChessNetwork on his channel.
When: January 18th 2018, 21:00 UTC
Format: 1+0 Bullet arena, 2 hour duration
Prizes: (1) $1000, (2) $250, (3) $125, (4) $75, (5) $50
Participation requirement: FIDE or NM verified title
Practical information
If you are new to Lichess, it's important to become familiar with the arena format. Read our FAQ, try out a tournament in advance. Arena points are awarded based on the number of games you win. You can late-join, withdraw or rejoin at any time.
Prizes will be awarded at most 3 days after the event, through PayPal. In the event of a tie, the prize(s) will be split.
Title verification
To participate in the Titled Arena, you need a verified titled account. There are three ways to do this:
Prefered and fastest method: fill in this form
Or: Take a picture of your ID document and send it to contact@lichess.org, along with a link to your FIDE card.
Or: Publish a statement about Lichess on a website where you are recognised as who you claim to be. It could be Twitter, Facebook, chess.com, ICC, or anything serious enough. Send us a link to your post.
Please do this asap, so we can verify your account in time for the tournament. No later than 48 hours before tournament start (January 16th, 21:00 UTC).