Aronian on fire and an interview with Yasser!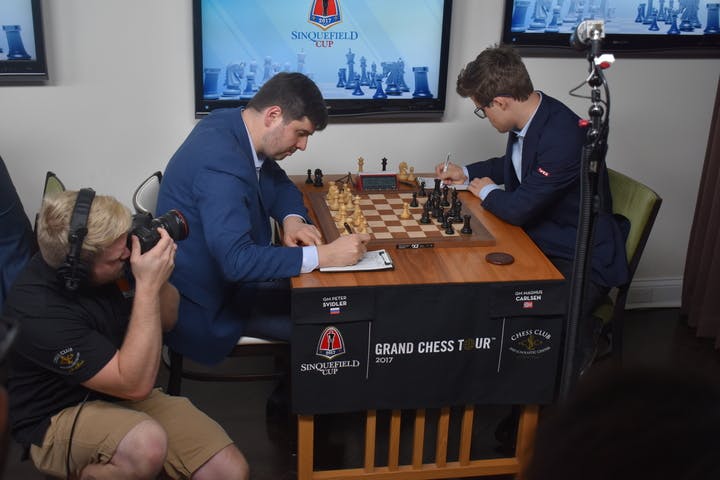 It was an exciting day of chess in St. Louis as former World Champion and possibly the greatest Chess Player of all time Garry Kasparov joined the commentators to give his opinion on the action. The games themselves did not disappoint and we were left with a very tight race for the winner going into the final 2 rounds.
I also had a moment to sit down and talk with GM Yasser Seirawan about the chess variant crazyhouse and his experience playing it on lichess. Sorry for the sound quality, we are clearly much better at making chess websites than being sound engineers.
Wesley So - Fabiano Caruana
Wesley So came into this game reeling, and it showed. To say this has been a bad tournament for him would be an understatement. A stronger adjective is necessary. "Awful," or "Horrendous" come to mind, you can pick one yourself. The game was what you would expect from a wounded animal as Wesley traded queens quickly and then everything else for an easy draw. Far more interesting was the post-game interview with Wesley. (watch it yourself) It's fair to say that some of the players are more known for being well spoken than others and Wesley would probably fall into the "others" category. However this time it was different as Wesley showed an impressive amount of confidence and aplomb while talking honestly about what must be a difficult time for him.
https://lichess.org/study/IdIqECUg/RYlgfypO#0

Vishwanathan Anand - Ian Nepomniachtchi
Speaking of people not having good tournament, Ian Nepomniachtchi is sitting in last place right next to Wesley So. It's not really a comparable situation because the expectations were not the same for Ian, who is playing in his first Sinquefield Cup. In this game Ian stayed loyal to his beloved Najdorf opening and eventually found himself in a rook endgame a pawn down but with what should be enough counter play to save a draw. Both Anand and Stockfish pointed to 31...b4 as the critical error and despite Ian's active rooks the white pawns could not be stopped.
https://lichess.org/study/IdIqECUg/hk04VU5I#0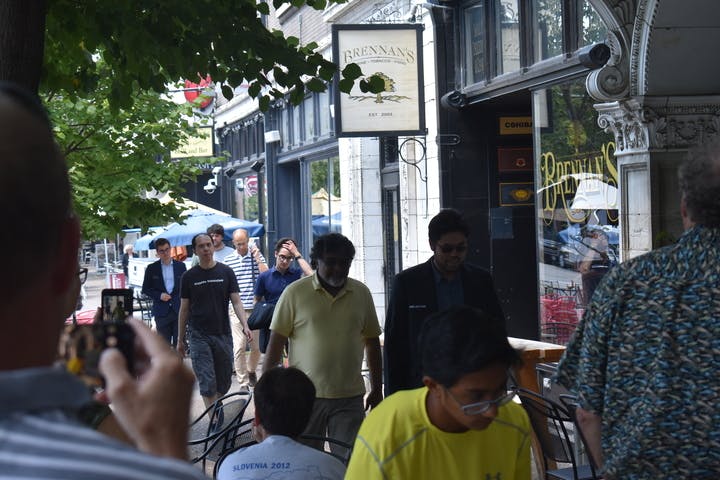 Throw a rock in any direction in St. Louis and you will hit a GM.

Maxime Vachier-Lagrave - Sergey Karjakin
This game seemed very exciting to me but after the post-game interviews I'm not so sure. It had lots of flashy sacrifices to free passed pawns. We got to see the rare position where one side is a whole queen up for multiple moves but not clearly winning. However, when asked about the game, Fabiano Caruana said that he imagined that every player at the tournament probably analysed this position and it was just a (complicated) draw. Of course I know that Super GMs prepare deeply but to hear him say that about a position almost 30 moves in is still somewhat surprising. Eventually the predicted draw did come and Vachier-Lagrave maintained his position at the top of the standings.
https://lichess.org/study/IdIqECUg/FyUpdLZy#0

Peter Svidler - Magnus Carlsen

It was incredibly interesting to watch this game with Kasparov as co-commentator. It was a Scotch game, an opening that Kasparov brought back to prominence after a long hibernation period. In fact, the game's position after 10 f4 is the same as in the game Kasparov - Karpov from 1991. Magnus played well and the position slipped from equal to slightly in his favor. The rook endgame is drawn but Magnus never worries about these sort of things and made Svidler prove he could defend it for a while. Svidler could, of course, defend it and the game was drawn. With the draw Magnus falls to fourth, a half point behind the trio of leaders.
https://lichess.org/study/IdIqECUg/nddfhKdR#0

Hikaru Nakamura - Levon Aronian

Kasparov's fingerprints can be seen on this game as well. The position after 10...d5 is also from a Kasparov - Karpov game, this one from 1987. At some point Nakamura lost control and gave Levon the opportunity to play the beautiful 33...Nxf3! This was the most aesthetic move of the tournament for me, however most observers will probably prefer Anand's Qd4 from round 5. With the victory Levon moves into tied first.
https://lichess.org/study/IdIqECUg/kChdlQKs#0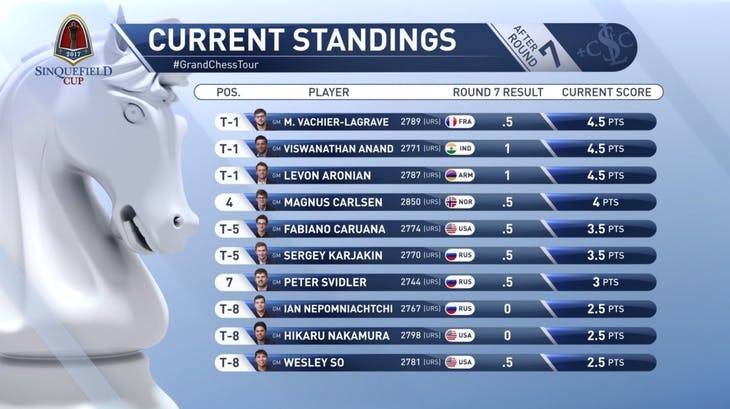 Thanks to http://grandchesstour.org for the standings image