Aronian puts on a show in round 6
Meanwhile, Wesley hits rock bottom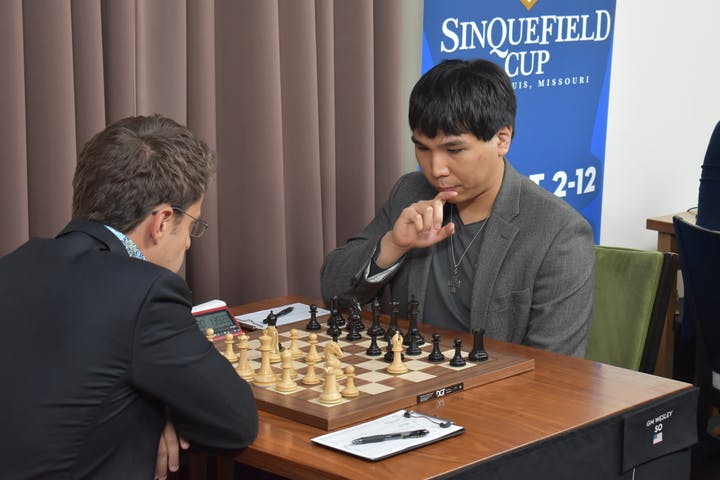 Levon Aronian - Wesley So
Well this game was clearly the gem of the round. It's hard to know whether it's correct to characterize this game as Wesley So falling apart or Levon showing some special brilliance but I certainly enjoyed the last few moves in any case. 29 Rf6! And 30 Rh6! Are just the sort of moves that get put on stamps or cause the spectators to rain gold coins on the players. In addition to winning the game Levon also inched his rating over 2800 again and he seems fully recovered from his slump in the previous year.
Meanwhile, on the other side of the board…. I would never have predicted Wesley So would be alone in last place. Not only losing 2 in a row but one of his opponents, Magnus, tweeted in a subtle/deniable way that their game was a "walk in the park," When it rains it pours.
https://lichess.org/study/IdIqECUg/C5SboqSG#0
Fabiano Caruana - Maxime Vachier-Lagrave
This game is tricky for me. My chess credentials in general are somewhat dubious and my Najdorf credentials are completely non-existent. However, I can search a chess database as well as the next guy and it seems that the move 10 Qd3 is the novelty that the Najdorf fanatics will be plugging into their engines and then leaving it on overnight. There are gobs of possibilities here and lots of pretty lines that Vachier-Lagrave and Caruana demonstrated in the post game interview. Even if you're not a Najdorfer you should go to the game below and try them yourself, with or without the help of Stockfish. 10...Qxb2 and 10...Nxe4 both lead to the pieces careening around the board spectacularly. Vachier-Lagrave however played the more circumspect 10...Nbd7 and quickly had a difficult position. Nevertheless Maxime is good at finding an escape hatch in these ultra-dynamic positions even when things go wrong and he eventually drew the game to maintain his position as tournament leader with Anand, Carlsen and now Aronian only a half point behind.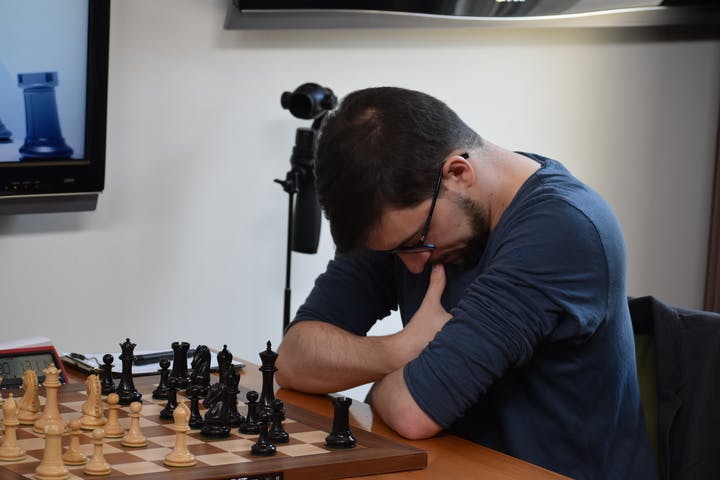 GM Maxime Vachier-Lagrave
https://lichess.org/study/IdIqECUg/1UfMtvMO#0
Magnus Carlsen - Hikaru Nakamura
Super GMs are hard to beat. Everything in this game pointed to a Magnus win. Nakamura has a terrible record against Magnus. Magnus was up a pawn. And, of course, Magnus is the World Champion. Despite all that, Nakamura just never broke. As has become tradition in these long Magnus games the sesse supercomputer helpfully pointed out a win that Magnus didn't find which allows all of us mortals to imagine that what Magnus does is easier than it is.
https://lichess.org/study/IdIqECUg/x0nXlIMk#0
Sergey Karjakin - Vishwanathan Anand
This was... not the most entertaining game today. I'm sorry, I should find some way to make it interesting for you, the reader but I'm just not seeing a way. Arriving to move 25 with nothing on the board except pawns, kings and a pair of knights is really quite an accomplishment. It's ok, they can't all be once-in-a-lifetime works of art. Go look at  Aronian's game again and you'll feel better. I can't blame the players either, a draw as black that keeps him a half point out of the lead is a fine result for Anand and Sergey just doesn't have it in him to play for a win every single game.
https://lichess.org/study/IdIqECUg/nK7saIr6#0

Ian Nepomniachtchi - Peter Svidler
There was a time that the game between 2 russians would have been the headliner instead of an afterthought between 2 men tied for last. The other Russian in this tournament, Karjakin is doing a bit better but Russian chess is clearly not what it once was. It seems that the Pirc defense that Nepomniachtchi played in the last round was a one-off and a more conventional Ruy Lopez led to a draw.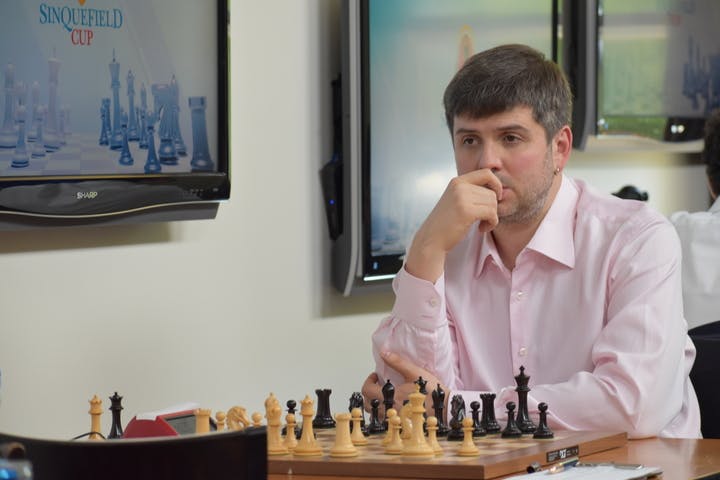 GM Peter Svidler, wondering what happened to Russian chess dominance
https://lichess.org/study/IdIqECUg/cICXG5UV#0