Anand dazzles St. Louis while Carlsen grabs pawns
Vachier-Lagrave remains in the lead after 5 rounds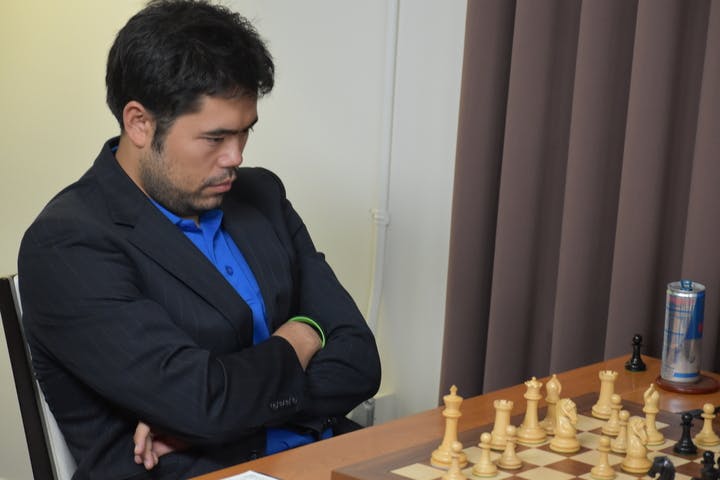 "I sat there thinking for a while, wondering what I'd missed and then I decided I can't live my life like this" - Magnus Carlsen

Maxime Vachier-Lagrave - Levon Aronian

Thus far Vachier-Lagrave has won 2 games and drawn the rest, which is exactly what Wesley So did in this tournament last year while winning it. That is to say: if nothing of interest (like decisive games) happens in the rest of the tournament, he has a good chance to take first, either tied or alone. In that context you might expect a boring game where nothing happens. That might have even been the wise thing to do but it's not something that these two players are very good at.
Levon played the same 9...b5 Giuoco Piano defense he played against Karjakin in round 3 and a strange piece formation with a black pawn on b3 trapping a bishop on b1 arose. The sequence beginning with 20 Nxe5 sent me running to Stockfish to figure out what was happening but, the nihilistic machine just says that it was always close to equal. Eventually the game converted down to a 2 piece vs. rook ending which was better for Maxime but not enough to take the full point. It will, however, be enough for him to continue to hold 1st place alone.
https://lichess.org/study/IdIqECUg/MxQTQu6q#0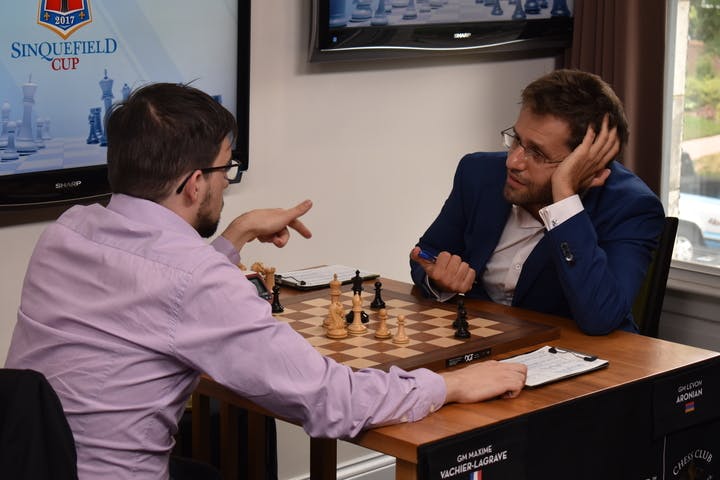 Viswanathan Anand - Fabiano Caruana
Do yourself a favor and set the position up after 25...Re5 and see if you can find what Anand played. Seriously! Don't just skim over this! Here, I'll give you a diagram. White to play and win.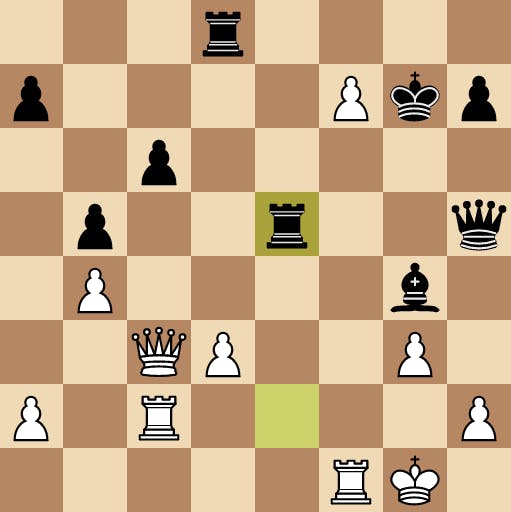 Did you find it? You just skipped ahead didn't you?
Well it looks like ol' Vishy still has some fight in him. A half point out of the lead and he even did it in style. If these tournaments still gave out brilliancy prizes this game would be a strong contender.
https://lichess.org/study/IdIqECUg/RQdJnpKX#0
Wesley So - Magnus Carlsen
Chess is so cruel sometimes. Imagine you're Wesley So. You've been playing well and people are starting to wonder if you might be the guy to knock Magnus off his throne. So you sit down to play him the day after he lost a crushing marathon game (what luck!). You pick a surprise weapon as your opening, the Scotch! He'll never suspect that! And he didn't! You get a great position around move 18 and have every reason to push for a win. Magnus tries to grab a pawn but of course  you can't get away with that when you have a bad position. The loss of time would be too much! Just leave the pawn to its fate and use the time to activate your pieces and overwhelm him. Except...maybe that pawn is more important than I thought. Hmmmm...I guess trapping the rook with Bb3 doesn't quite work. Wow, his rook is really active on the 2nd rank...Uh oh….

Carlsen Joins Anand a half point out of first.
https://lichess.org/study/IdIqECUg/k4MHXg7D#0

Sergey Karjakin - Ian Nepomniachtchi

The most exciting part of this game was the opening where Nepomniactchi played the exotic Pirc defense and Karjakin played the mysterious 7 Be2. After the game Karjakin admitted he forgot what he was supposed to do after his curious opening and he was quickly in some trouble. Fortunately staying alive in bad positions is a Karjakin specialty and he defended precisely right down the line and left with a half-point.

https://lichess.org/study/IdIqECUg/5dz3p7t4#0
Hikaru Nakamura - Peter Svidler
More interesting retreats in the opening here as Svidler played the odd-looking 11...Ned7. However this game won't be the best advertisement for his novelty as Naka got a nice position which veered very closely to being a winning position but Svidler found counterplay and saved the half-point.
https://lichess.org/study/IdIqECUg/hMU4I6J2#0