A draw? they might as well not have played
You can't win them all...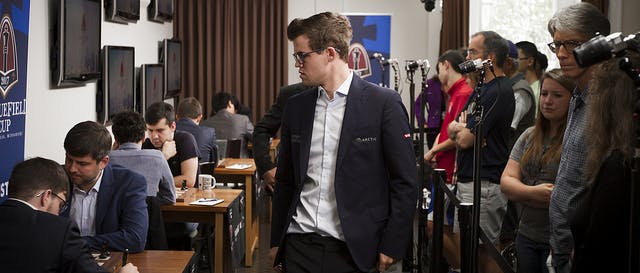 Sergey Karjakin - Levon Aronian
Another Giuoco piano in this game for Karjakin who also played it in the 1st round. The game anticlimactically ended in a draw by repetition after only 24 moves. Aronian was happy to accept the draw both because he was probably still dog-tired from yesterday's ultra-marathon with Fabi and because he was somewhat worse in the final position. If you think this sort of thing is a crime and the perpetrator needs to be tracked down and punished for a lack of fighting spirit then Karjakin would clearly be the guilty party here. In the post game interview Karjakin said he didn't see anything better than repeating and if we believe him then it's hard to fault him for putting his career and his Elo rating ahead of the spectators wishes.
https://lichess.org/study/IdIqECUg/PJuk8N4U#0
Fabiano Caruana - Ian Nepomniachtchi
Nepo opened with a Sicilian and Fabi, perhaps with no stomach for sharpness today after burning the midnight oil with Levon in the previous round, decided to demure from any of Nepo's Najdorf shenanigans and played a very slow safe system instead. Of course in chess you are never completely safe from sharpness no matter where you hide and the game eventually turned into a super sharp race between Nepo's queenside attack and Fabi's attack on the kingside. The game ended in a repetition similar to the one in Karjakin-Aronian with both sides potentially being able to play on but deciding better of it.
So!  Enough about the game, onto the draw moralizing! Which one of these 2 players is at fault for stealing from the spectators the decisive game they deserved? Do we forgive Fabi because he was the one clearly under some pressure with less active pieces and  played a thousand moves yesterday? Do we forgive Nepo because his tournament was circling the drain and a draw is his best ever Sinquefield Cup single game performance? Do we accept that draws are a natural part of chess and just enjoy what was a very exciting game? I'll let you decide.
https://lichess.org/study/IdIqECUg/kSr7qF6k#0
Maxime Vachier-Lagrave - Peter Svidler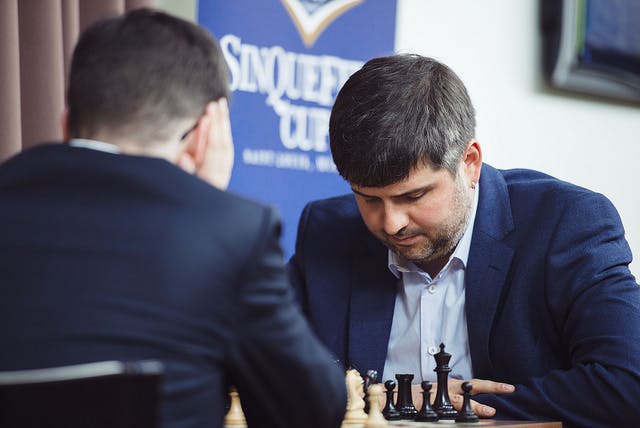 Pictured: GM Peter Svidler either calculating or praying
Here's something for the spectators! Everybody loves a comeback! Vachier-Lagrave played well to win a pawn and gain a clear advantage. However, Svidler would not be steamrolled and stayed alive long enough to find the very pretty line-clearing sacrifice 32...d5! Which secured him a perpetual check.
https://lichess.org/study/IdIqECUg/dYeWYSk3#0
Viswanathan Anand - Magnus Carlsen
and
Wesley So - Hikaru Nakamura
I'm going to play a bit of "code golf" with this report and handle these 2 games together for efficiency reasons. They both followed similar paths and I think I can tell the story of both games in one paragraph with the help of some parenthesis.

One player played well to secure an advantage (Carlsen and So) however in the process they traded off too many pieces and pawns which gave the other player (Anand and Nakamura) ample scope to steal a draw. They both traded down to theoretically drawn endgames which nevertheless required some accuracy (3v3 with an outside passer for Magnus and 2v3 with RNB for Wesley) after some SuperGM level defending the games ended in a draw
https://lichess.org/study/IdIqECUg/SeElcLIA#0
https://lichess.org/study/IdIqECUg/bGTqsJLV#0
photos courtesy of Austin Fuller, CCSCSL