Nothing decided yet in round 8
All 3 leaders draw to set up a dramatic final round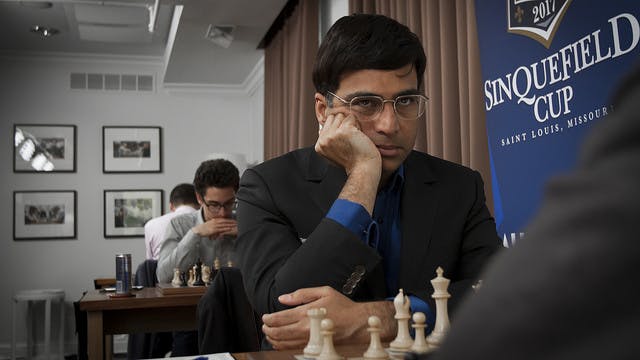 It was a tense day at the Sinquefield Cup where all three leaders drew, setting up a final round where half the field have a chance to finish in first.

Levon Aronian - Peter Svidler
It probably would have been wise for Aronian to "play for two results" in this game - in other words, take no risks and be happy with a draw, but he doesn't seem capable of doing that. Although the game was drawn, it was an Aronian-style draw, i.e. a repetition in a super sharp position. The computer amusingly scolds both players for accepting the repetition and suggests ways they both could have taken the advantage instead, Svidler with 16... Qxg2 and Aronian with 17. e4.
https://lichess.org/study/IdIqECUg/PTQBefRU#0

Vishwanathan Anand - Maxime Vachier-Lagrave
Unlike Levon Aronian, Vishwanathan Anand knows how to not take risks when he's ahead in a tournament. This was a duel of 2 of the 3 leaders so a loss would have been disastrous for either player, not only giving themselves a zero but also giving a direct rival the full point. In the game, Anand was clearly ahead for most of it, but it didn't ever seem like he was going to be able to break through and the players eventually split the point.
https://lichess.org/study/IdIqECUg/ztFDgz3f#0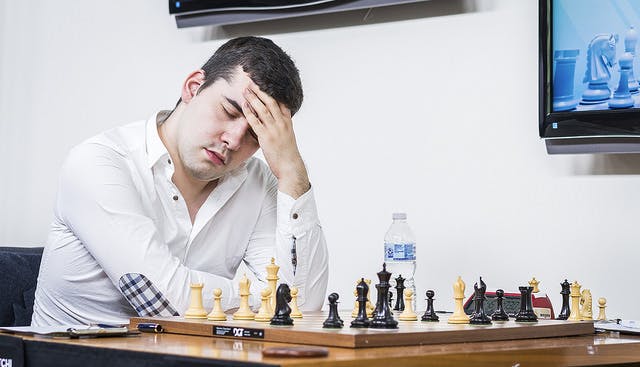 photo: Lennart Ootes, grandchesstour.com

Ian Nepomniachtchi - Magnus Carlsen
Magnus is clearly not satisfied with anything but winning the tournament and tried very hard to get the full point today against Ian Nepomniachtchi. He sacrificed a pawn briefly, and after winning it back, sent his rook on an odyssey to strange lands like h5 and a6. The always-optimistic Magnus pointed out in the post-game interview that if his rook were only on some normal square he would have been better. Magnus' luck didn't completely run out today as none of the three players in front of him won either, which means he still has chances to leave as St. Louis champion if he wins in the final round.
https://lichess.org/study/IdIqECUg/3BQw5f44#0

Fabiano Caruana - Hikaru Nakamura
The King's Indian Defense is not as popular as it once was, but Nakamura is one of the few elite players that still play it from time to time. He will have fond memories of playing the King's Indian in St. Louis as he won a spectacular game in that opening here in 2015 against Wesley So. Today's game was extremely back and forth with Nakamura first looking to have the advantage and then letting it slip to Fabi. Poor Caruana said in the post game interview that he was sure he was winning after 42. Rg8 having missed Nakamura's drawing combination.
https://lichess.org/study/IdIqECUg/56be3aT8#0

Sergey Karjakin - Wesley So
I'm going to resist the temptation to write another paragraph about Wesley's difficult tournament - I've done enough of that for one lifetime. Sergey won a long grinding game and surprisingly still has an outside chance to win the tournament tomorrow if everything goes right.
https://lichess.org/study/IdIqECUg/BPZHql6g#0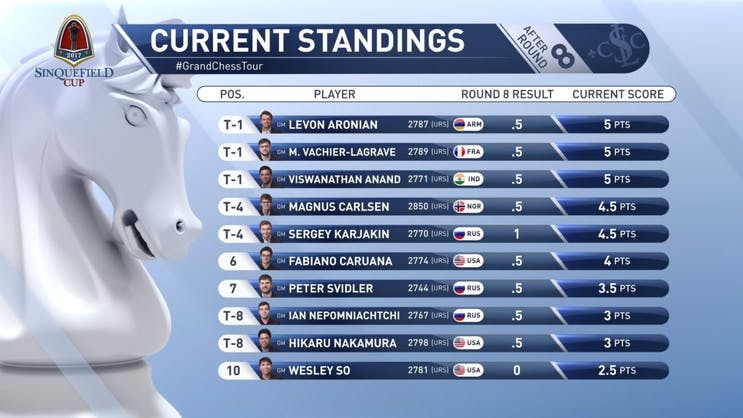 Image: grandchesstour.com