London Chess Classic: Round 5
All the highlights and updates from the final leg of the Grand Chess Tour.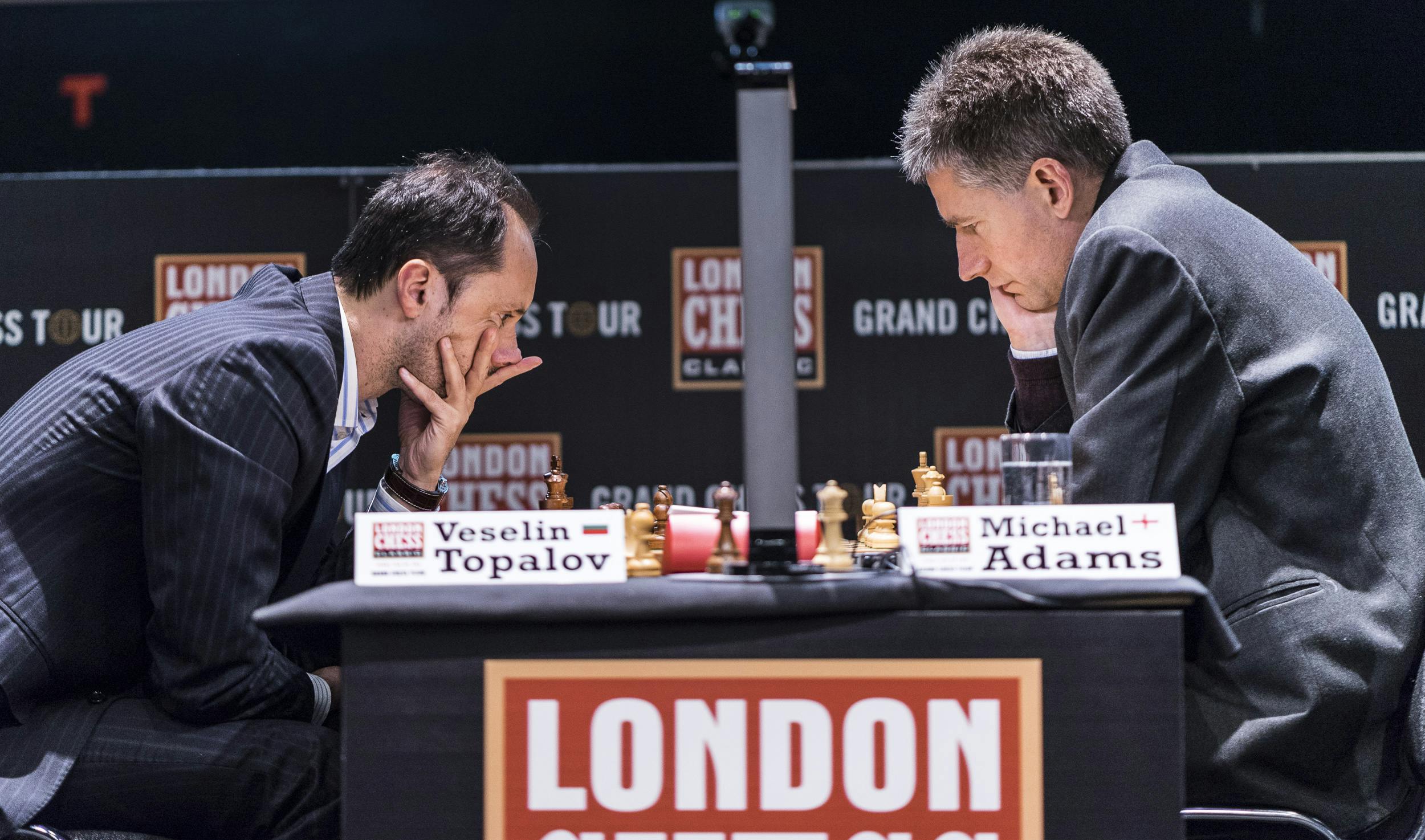 Round 5 of the London Chess Classic, the last round before a rest day tomorrow, provided only one decisive result in a comprehensive demolition of Veselin Topalov, the Bulgarian ex-FIDE World Champion. Topalov, who entered the tournament as the world no. 15, has had a series of unfortunate losses which have now put him on the very brink of exiting the world's top 20, only 0.2 rating points away from the 21st spot (currently occupied by Grischuk).
On the other boards, Aronian and Giri drew in 20 moves due to threefold repetition, playing for just over an hour. So and Anand also drew shortly after, reaching the Sofia rules 30 move limit before agreeing to draw. MVL and Caruana similarly agreed to draw on move 34, despite Caruana having a commanding position for much of the match, which he was unfortunate to let slip. Nakamura defended well against Kramnik, who had possibly out-prepared Nakamura in the opening, including an early novelty, holding their game to a draw after nearly 7 hours of play following some ambitious and potentially inaccurate middle game play by Kramnik.
Michael Adams (ENG 2748) vs Veselin Topalov (BUL 2760)
Adams, known for his positionally solid style of play, raised no eyebrows when he opened with 1. e4. Topalov responded uncharacteristically with 1… e5, and the two played the Ruy Lopez: Berlin Defence. Surprisingly, by 11. f4 it was clear that Adams was heading down the warpath, perhaps scenting some weakness in Topalov who has been having a miserable tournament with 0.5/4 prior to this game. Adams speculatively sacrificed a pawn to keep up his attack, and by move 16 looked as if he had considerable attacking options which could overwhelm black. Topalov met aggression with aggression, giving back one pawn and then sacrificing one himself, but in doing so had two beautifully placed bishops which could potentially put pressure on white's vulnerable kingside, supported with a rook bearing down on g2 and a centralised queen.
Adams' advanced f pawn ultimately gave him too much control on black's kingside, keeping black's king trapped in the exposed centre as well as allowing 24. Qxh7, a greedy looking move which surprisingly allowed no obvious reply from Topalov to punish Adams' avarice. By this point of the game, Topalov was facing severe threats against his king, and severe time pressure – having only 4 minutes left on his clock to make the 14 moves to unlock the extra time on move 40. Adams, making sure his position was secure, nearly also put himself into time pressure, with both players blitzing out the last 6 moves of the game until Topalov resigned in a completely lost position.
https://lichess.org/study/QkqbvW0f/RCC7QpEn
Adams, interviewed by GM Maurice Ashley after the game, claimed he didn't target Topalov especially, but from a spectator's standpoint that seems difficult to reconcile with the level of aggression the softly-spoken Englishman demonstrated across the board.
Maxime Vachier-Lagrave (FRA 2804) vs Fabiano Caruana (USA 2823)
Caruana chose to play the Petrov Defence against MVL, with both choosing to castle long. Worryingly for MVL, Caruana was able to have a completely dominating position, with both the d and e pawns advanced deep into MVL's territory. Reflecting on this game, it feels like MVL ultimately played too passively, and was suffocated by Caruana's prophylactic play.
In addition, black had excellent control over the dark squares, with potential mate threats. In the key position on move 24 Stockfish had the continuation of 24… Nb4 as winning for black, with the main threat being the line: 25. Qxe4 Nd3! after which white's options are limited Caruana later admitted he had seen the start of this line, but discarded it as it appeared too "murky". Caruana also seemed a bit subdued, perhaps disappointed that he hadn't made more of today and regretting not calculating the key position with plenty of time on his clock.
Instead, by playing 24…Rd2 Caruana opened up the dark squares on white's partially exposed castled king, but also undid much of the pressure and work he had put into his position, allowing MVL to achieve equality and a draw.
https://lichess.org/study/QkqbvW0f/D5HHQ9NF
Wesley So (USA 2794) vs Viswanathan Anand (IND 2779)
Both players had clearly prepared well for this encounter, with Anand managing to neutralise the tournament leader into a draw with the black pieces in exactly 30 moves. Anand visibly surprised So with the novelty, winning a pawn 10… Bxa3 (the intention being, if 11. Rxa3 Nb1 allows for a lovely fork and winning material), a move which Anand later revealed his second had shown him for that position and when he had been shown "had to check for a second to check the move was legal!". So, on the other hand, said he knew about the move – just not in that position.
Both players then entered a brief equal middle game where all major material barring a bishop and a rook for white and a knight and a rook for black were swiftly traded off within 5 moves. Going into an equal endgame with a symmetrical pawn structure, both players engaged in blitz to meet the Sofia rules requirement of 30 total moves before they drew.
Anand was rightfully "happy with an easy draw against So" – a player more than half his age, and who has been in imperious form over the entire Grand Chess Tour, let alone the London Chess Classic. Anecdotally, Anand was asked in the late 90s if he was considering retiring from chess. Anand replied so long as he was playing top level chess, he wouldn't retire. Here we are 20 years on – in the words of GM Maurice Ashley, Anand truly is an "ageless wonder".
https://lichess.org/study/QkqbvW0f/k2uKr7pm
Hikaru Nakamura (USA 2787) vs Vladimir Kramnik (RUS 2809)
It appeared in the opening that Nakamura had been out-prepared by the ever-illustrious Kramnik, with black introducing a novelty into the Anti-Nimzo line he chose to adopt against Nakamura. Kramnik managed to capitalise and got deep behind enemy lines by move 25, but Nakamura masterfully handled the incursion and disrupted any momentum and initiative Kramnik's attack had.
Kramnik then attempted to reinsert some dynamism into the position by playing 28…f6, a move which ultimately perhaps disrupted his pawn structure more than Nakamura's and allowed some additional insecurity to seep into his position. Kramnik then played an excellent endgame, finding 41…Nc8, a key move which was the only move which prevented his position from being lost. Nakamura ultimately couldn't break through Kramnik's fortress despite having (doubled) passed pawns, and the two agreed to draw after nearly 7 hours of play.
Nakamura handled the game well and appeared to be subdued in the press conference afterwards. He will naturally be disappointed he was unable to break through Kramnik's defence despite having (doubled) passed pawns. Nakamura, along with Levonian, are the main competitors to stealing Wesley So's crown.
https://lichess.org/study/QkqbvW0f/VS1B5YN5
Levon Aronian (ARM 2795) vs Anish Giri (NED 2771)
Giri had clearly prepared a line against the Neo-Grünfeld, and excellently neutralised Aronian who had the white pieces. Giri was particularly confident in this line, which he had played frequently in classical, rapid and blitz games – most notably against Kramnik. Although the draw was very early – after just more than an hour and 20 moves in, there was very little meat in the position for either of them to tear into.
Giri was right when he said to Maurice Ashley that "as black you don't take risks" and that for him "5 draws in a row is business as usual". At the same time, he said "I am the first person who wants me to win". The main issue Giri potentially faces is getting frustrated at not quite being able to deliver a knockout blow, but Giri's style isn't new in chess. However unaggressive Giri may often seem, it was the generation before him who were well-known for agreeing to draws hardly 20 moves in, and which incurred the Sofia rules, preventing a draw by agreement before move 30.
https://lichess.org/study/QkqbvW0f/gbuvrXb7
Over halfway through the tournament now, and Wesley So remains in the lead with 3.5/5, followed by Caruana, Kramnik, Aronian and Nakamura all on 3/5. Anand and Giri are both equal on 2.5/5, and MVL and Adams are both on 2/5. This has been a nightmare tournament for Topalov who may spend his rest day trying to forget the past 5 days, on a depressing 0.5/5.
Theo Wait (Cynosure) is attending the London Chess Classic on behalf of lichess.org. He would like to thank Malcolm Pein, for arranging a press pass for lichess.org, and for organising such a brilliant competition. He would also like to thank his fellow staff members lukhas, FM lovlas, nojoke, bosspotato for proof reading, editing, and checking all aspects of this article.