London Chess Classic: Round 2
Action and highlights from round 2 of the LCC. Including Anand v MVL, Kramnik v Aronian and all the other top games.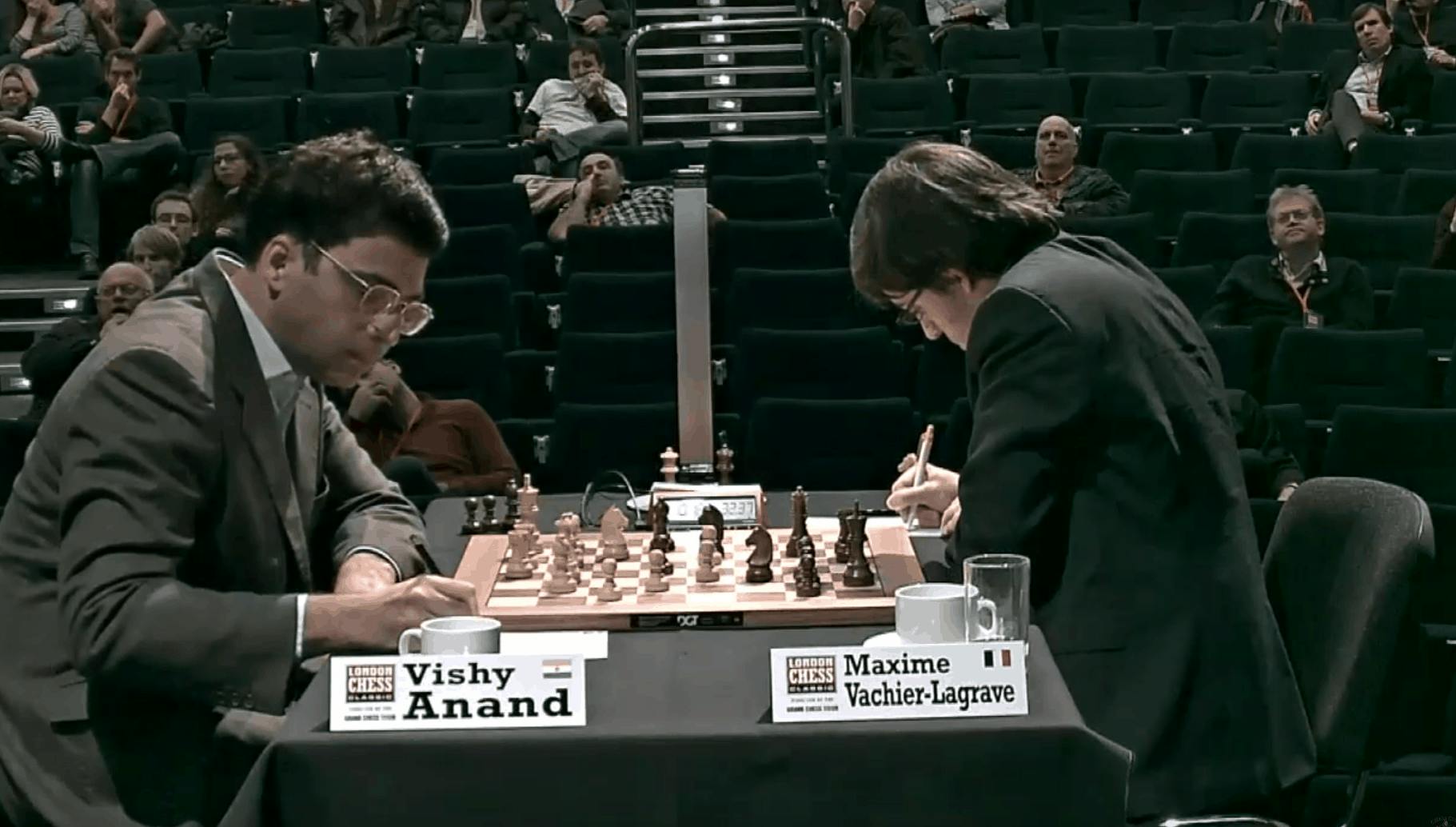 Another dramatic day from the London Chess Classic today, with incredibly unfortunate losses from Topalov and Adams – both from blunders again – and make it really difficult for them to have any reasonable chance of them being serious contenders in this tournament.

The day wasn't all blunder-ridden though, with Viswanathan Anand discovering a beautiful tactic against Maxime Vachier-Lagrave in what was possibly the most interesting game of the day.

Congratulations are equally in order to Wesley So, who – so long as he drew or won against Michael Adams, would have broken the 2800 mark. Fortunately for So, he won, and now is only the 13th person to have entered the 2800 club.

Viswanathan Anand (IND 2779) vs Maxime Vachier-Lagrave (FRA 2811)

Anand, playing with the white pieces, baited the Sicilian expert into playing his speciality – the Najdorf. MVL, famed for his mastery of the Sicilian, took the bait with gusto. Anand blitzed out an opening he had obviously prepared for beforehand, an explicit anti-MVL line. Anand committed to a strong kingside attack by move 10, using five of his moves to push his pawns further up the board to harass MVL – an unusual opening tactic and as general rules of thumb go, not one to be emulated unless you really know what you're doing.

Despite blitzing out his opening moves in what Anand later confirmed was a pre-prepared line, he quickly assumed the initiative over MVL, with a significant space advantage (if not a development one) which he was able to convert to a victory by move 33. Particular highlights included 10 f5, a natural looking move which forces black to exchange his reasonably potent light-squared bishop for black's useless knight on b3. By far, the greatest highlight was the tactic Anand spotted, presumably by around move 27 when he began preparing for it. At 33 Bxb7, the continuation is: 33… Nxb7 34 a6 (and neither the knight nor rook can cover the a7 or a8 squares) 34…Re2 35 axb7 Re8 36 Be5 and the promoting square b8 is protected, giving Anand at worst a bishop and pawn (passed) advantage.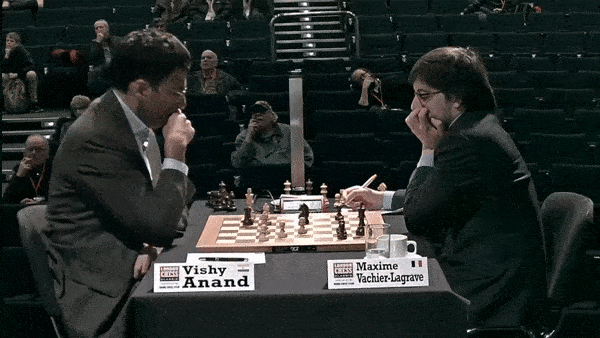 Immediately after Anand plays 33 Bxb7, MVL resigns.
https://lichess.org/study/QkqbvW0f/XxCwk3mt

Veselin Topalov (BUL 2760) vs Fabiano Caruana (USA 2823)

This is not Topalov's tournament. After playing passively against Kramnik in the first round, and losing, he played brilliantly against Caruana yet still lost. Topalov opened with a French Advance, and rapidly assumed a commanding position with an advantage in both piece development and space. By move 21, Topalov had managed to sit a rook on the 7th rank – 2nd or 7th ranks being the strongest ranks for rooks to sit on in enemy territory. In addition, he had an aggressive knight on the 6th rank providing additional pressure. Not only this formidable outpost of pieces, by move 28 Caruana only had around three minutes left on the clock, requiring 12 moves of a precarious middle game to be played before his time was replenished. Truly, the game looked like Topalov's to take.

Somehow, Topalov blundered not just once, but twice – once seriously, but not fatally, and the second time allowing a mating trap. This win was incredibly fortunate to Caruana, and disappointingly for Topalov, makes it very difficult for him to be in serious contention for the top spot.
https://lichess.org/study/QkqbvW0f/3dqLG7x5

Anish Giri (NED 2756) vs Hikaru Nakamura (USA 2787)

Giri having played a sharp Sicilian yesterday, spent today playing more in the style as Giri is known to employ – that is, playing for a draw. As a sign of his nonchalance towards winning, Giri offered a queen exchange to Nakamura, which Nakamura gladly accepted. By move 16, it was evident that neither was really playing for a win. In fairness, however, threefold repetition was offered, but rejected as early as move 32, but after Giri and Nakamura recalibrated their positions, 10 moves later they had merely found a new way to incur a threefold repetition.

After the game, both players appeared to be in relatively good moods, although Giri did seem a little bit upset with his performance, and stressed that he had "misjudged" the state of affairs after the opening. On the other hand, great news for Nakamura who now has his foot in the door once again.
https://lichess.org/study/QkqbvW0f/264n7n5e

Vladimir Kramnik (RUS 2809) vs Levon Aronian (ARM 2795)

As part of the Chess in Schools and Communities which are partners of the London Chess Classic, the ceremonial first move was played by a young girl of primary school age – perhaps around 8, for those unused to the British education system. The girl promptly played 1 e4, prompting the tournament organiser – British IM Malcolm Pein to ask Kramnik whether her move was satisfactory: "pretty good move, Vladimir?" Kramnik replied "I would like to play it but I won't."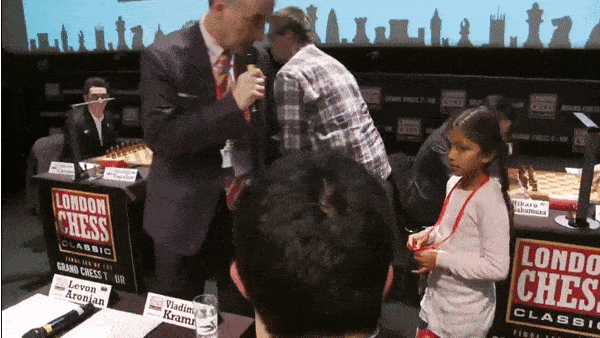 The purely ceremonial first move is played as 1 e4, to Kramnik's slight disappointment.

Characteristically, Kramnik played a sharp and aggressive opening, pressure he kept up throughout the game before the players agreed to a draw on move 32. Some commentators, such as the British Grandmaster Julian Hodgson, gave Kramnik slightly winning chances, but ultimately it was too small a handhold to maintain and a draw – in hindsight – and with another 7 games to go – probably was the best option for Kramnik and Aronian.
https://lichess.org/study/QkqbvW0f/INZHTdm0

Wesley So (USA 2794) vs Michael Adams (ENG 2748)

A disastrous day for Michael Adams. Yesterday, he made a blunder which cost him the game, by playing king move incorrectly which allowed his opponent to gain a tempo against him (a tempo he would have been up on otherwise). Today, he similarly blundered – a very simple blunder any chess enthusiast could see, showing the sheer amount of pressure and concentration chess is composed of at the highest levels.

Much like yesterday, Adams played a strong game, showing he is not just capable of playing at these levels, but deserving of it. His play against So was solid, and many commentators reckoned he had excellent drawing chances. Unfortunately, Adams played 39…Ne6 – initially a smart looking move which exchanges a knight for a bishop after 40 fxe6 Qxe5. What Adams missed was that after that continuation, white had 41 Qd7+ which after either only legal move of …Kf8 or Kf6 led to 42 Qf7#. A horrible blunder by the British number 1, and one which has likely – much like Topalov – made this tournament impossible to get significantly back into.
https://lichess.org/study/QkqbvW0f/VTKNZBKw
Current standings now put Wesley So in the clear lead on 2/2, Anand, Kramnik, Caruana and Aronian all tied on 1.5/2, Giri on 1/2, Nakamura on 0.5/2 and Topalov and Adams both on 0/2.

Theo Wait (Cynosure) is attending the London Chess Classic on behalf of lichess.org. He would like to thank Malcolm Pein, for arranging a press pass for lichess.org, and for organising such a brilliant competition. He would also like to thank his fellow staff members NoJoke, FM Lasse Lovik (lovlas), lukhas and bosspotato for assisting him with the production of these articles.