Opening Explorer
Lichess Publishing Club
Announcements
A powerful new feature is out on Lichess!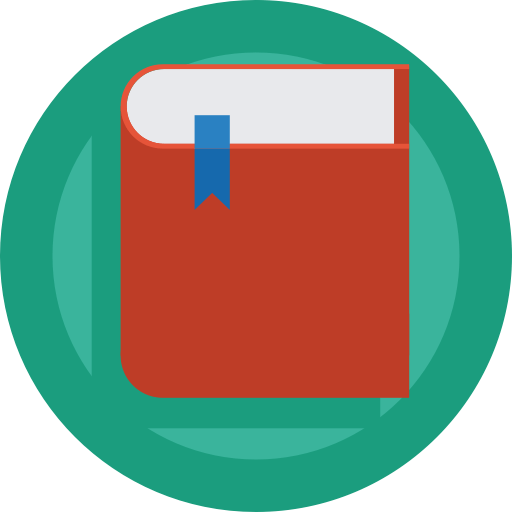 Over the past month the lichess devs have been hard at work on a powerful new feature. Today we are proud to reveal the Lichess Opening Explorer! Not only does it let you search through over 12 million Lichess games (and counting!) with more than 390 million unique positions, but it also features a specially curated database of 2 million master games from thousands of over-the-board tournaments since 1952! That's right, a fully featured opening explorer is now a part of lichess.org and it's all completely free!
Accessing the Opening Explorer
The Opening Explorer can be accessed by either going directly to the Analysis Board (which now supports all variants and displays the opening name of the position as you play your moves, accounting for transpositions), or by going to the analysis view of any game, and clicking on the "Book" icon below the moves list.
Choose your Opening Book preferences
Clicking on the "Gear" icon in the top corner of the Opening Explorer will reveal the filter settings that you can use to narrow down your game searches. These settings allow you to switch between surfing the greatest games played by chess masters or Lichess games around your level and pace.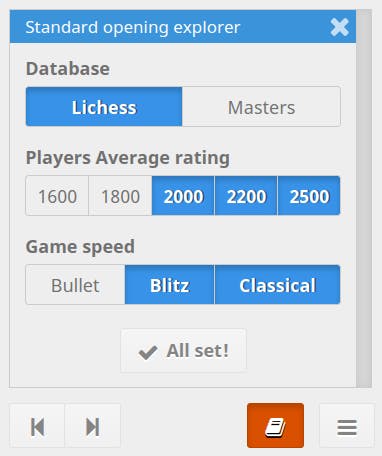 Navigating the steps
As the position on the board changes, the Opening Explorer will update to show popular moves. Additional information such as average player rating (appears on hover), the number of times the position has been reached, and the game result distributions are all on display.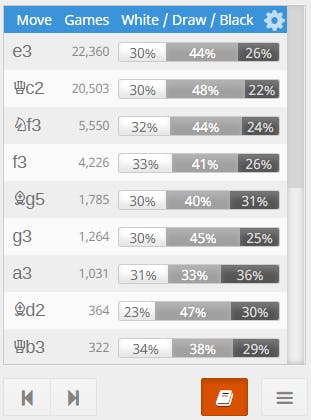 Finding games
A list of the best related games is found below the moves list. Clicking on a game's summary will open that game from your current position.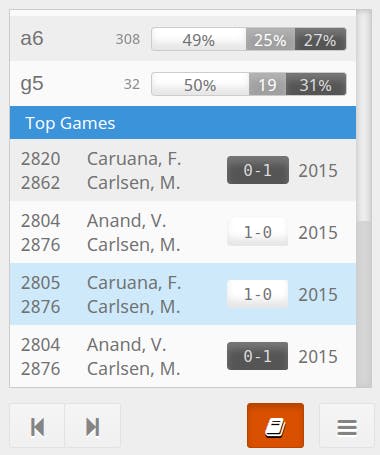 If you are using the Lichess database, you will also find recently played games that arrived at your position, so you always have new games to study.
Community driven feature development
As you know, Lichess is an open source project. This feature couldn't possibly be completed without the incredible contributions made by our awesome development community. A very special thanks goes to revoof (niklasf on github), who built the Opening Explorer server. This guy is a kick-ass developer, few people could have done what he did here. The implementation is plain awesome, allowing millions and millions of games, and support for chess variants. This might be the first Crazyhouse opening explorer online!
Big thanks to Tony Rotella, opening expert and illustrious author of The Killer Sicilian, for providing his very own curated database of master games.
What's next?
While you are ready to explore all the Opening Explorer has to offer, consider to chip in for what major feature you would like to see on Lichess next! While this poll is not binding, it will give us a good idea of the views of the community.