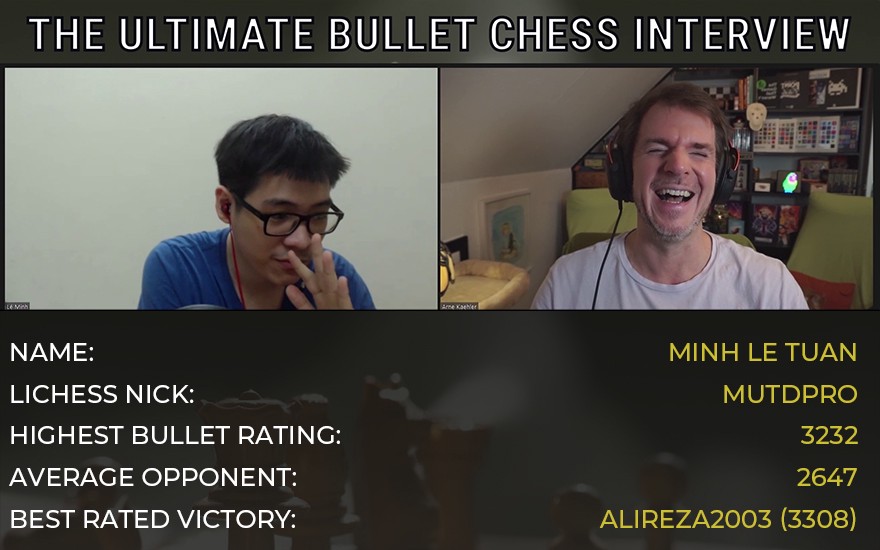 The Ultimate Bullet Chess Interview with Minh Le (mutdpro)
Bullet chess interviews with some of the greatest bullet chess players in the world
If you search for the name Minh Le on YouTube, it doesn't surprise you will find the title "Why is this IM so strong?!" by Hikaru Nakamura. That was in 2020, and once we fast-forward to October 2022, the IM is now a GM.
https://youtu.be/DHUCVgxDxgY
Minh Le, alias "mutdpro" on Lichess, is one of the best bullet chess players in the world, and appears in the top ten list all the time.
His go-to opening for bullet chess is the London System, and he prevails in 65% of these games.
What is the Ultimate Bullet Chess Interview?
In the UBCI we dive right into the questions. No big intro, no chit-chat or small talk, just a bombardment of mostly bullet chess related questions. These questions are randomly chosen from a huge question pool of over 80 questions. Like this, we pump 20-30 interesting questions in just 20-30 minutes!
Some questions:
Which mouse model are you using?
Rate your strength from 1-10: Speed, Tactics, Chess Knowledge, Bullet Expertise
Have you ever had the feeling to be addicted to bullet?
What is the thing you dislike the most in bullet?
How to get better at bullet chess?
etc.

More Ultimate Bullet Chess Interviews are coming up soon.
Are you interested in having an interview like this with me? Kindly let me know!
Links: