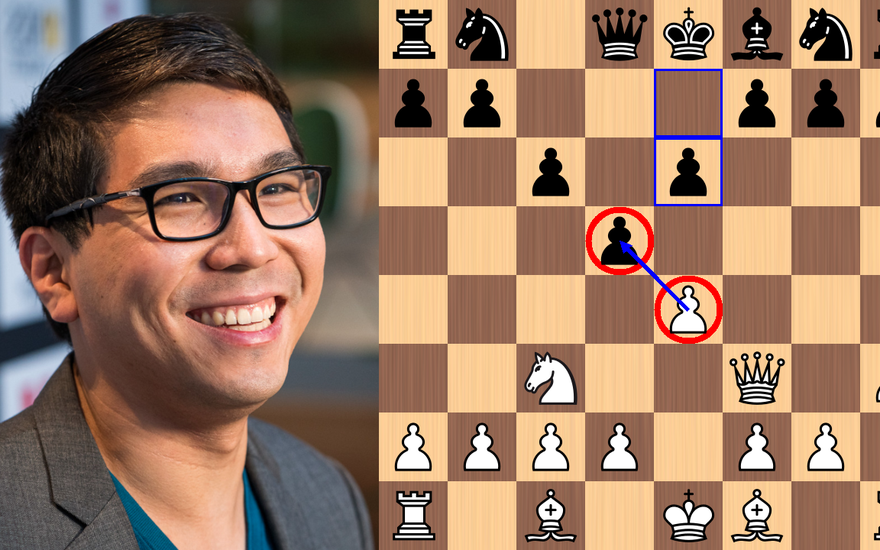 Image of Wesley So courtesy of Lennart Ootes
Wesley So's brilliant tactical idea
18...e4 is not best by test
Featured is a round 7 game from the 44th Chess Olympiad held in Chennai, India between USA's Wesley So and Armenia's Hrant Melkumyan. The opening is Caro-Kann Defense, Two Knights Attack. About half the game is quiet development and maneuvering, however play sharpens immediately after Melkumyan's 17....e5. What follows is a brilliant tactical idea by Wesley So that can easily remind the chess enthusiast of old school romantic style combinations. Are king walks ever not enjoyable?
Wesley So vs Hrant Melkumyan | 44th Chess Olympiad, Round 7
https://lichess.org/y3seLXxi
Below are 3 positions I draw attention to in the video
Question 1 of 3: Why is it not a good idea to capture on d5?
https://lichess.org/study/CuawoDiY/GnNXyS9E#12
Question 2 of 3: What is black's best reply to Bh6?
https://lichess.org/study/CuawoDiY/jJCKV2zd#35
Question 3 of 3: How would white reply if his rook was captured?
https://lichess.org/study/CuawoDiY/MSjlPOfA#37
Closing words
I thank you in advance for any likes and/or follows you may give. Any questions or comments you may have can be left in the video's comments section on YouTube, or in the forum below. I hope you have, in some way, benefited from this post. Thank you for taking the time to read, and be well.
-Jerry