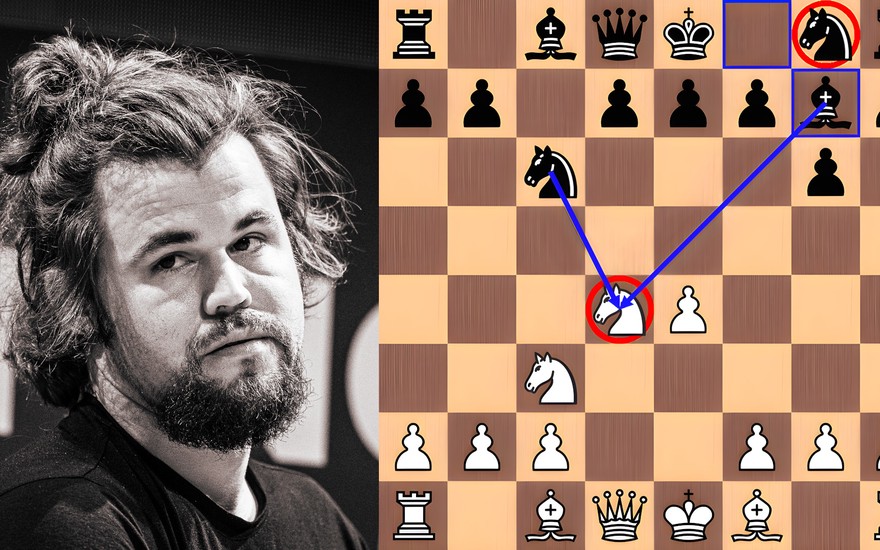 Image of Magnus Carlsen courtesy of Lennart Ootes
Magnus Carlsen is a Dragonslayer
An accelerated edition
Featured is the round 5 blitz game between Magnus Carlsen and Kirill Shevchenko from the 2023 Superbet Rapid & Blitz Poland (2/5). The opening is a Sicilian Defense, Accelerated Dragon, with Carlsen opting for 7. Nb3 instead of the more popular Bc4. White's strategy for defeating the Sicilian Dragon is maybe best understood by Bobby Fischer's quote: "Pry open the h-file, sac, sac ... mate!". Whether facing the Sicilian Dragon or playing it, you will find useful notes for both colors in this 25-move model game, where Carlsen did not need to sacrifice anything substantial on his path to victory.
Magnus Carlsen vs Kirill Shevchenko, 2023 Superbet Rapid & Blitz Poland
https://lichess.org/8qHDcyRa
Below the video I have highlighted 2 positions
https://youtu.be/CbqBebHQbzc
Question 1 of 2: How should black reply to h5?
https://lichess.org/study/CuawoDiY/MThcjApP#33
Question 2 of 2: How would you react to f4?
https://lichess.org/study/CuawoDiY/VHsWhTuT#31
Closing words
Thank you in advance for any likes and/or follows you may give. Any questions or comments you may have can be left on YouTube or in the forum below. If you enjoyed the featured video, you may also enjoy the playlist I've created Magnus Carlsen Chess Games. I hope you have, in some way, benefited from this post. Thank you for taking the time to read. -Jerry