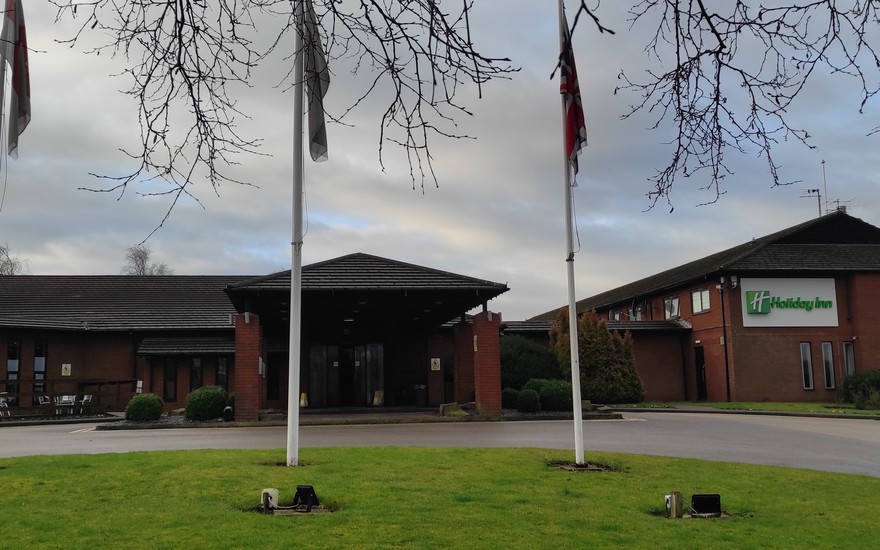 Me! At around 9:25 AM on the 5th !
J4NCL - W/E 2 - 5th - 6th February - Holiday Inn South Normanton - Jct 28 M1
My 2nd J4ncl Report / Overview of this Season ( 2/3 ) - I hope you enjoy, report coming shortly after event finishes.
Hi all.
I know I've been a bit inactive with blogs recently, so I've updated all of them, and plan to be active with them again.
THIS BLOG IS NOW DONE :)
**ALL PHOTOS TAKEN AT THE VENUE ARE MINE, you can use them if you like to create your own blogs, but please include credit :)
This one is about the 2nd 4NCL Weekend for Juniors.
More info can be found here :
https://www.4ncl.co.uk/
https://www.4ncl.co.uk/j4ncl/jn_entry_2122.htm
https://www.4ncl.co.uk/j4ncl/jn_news.htm
---
The event has concluded.
Final results can be found here :
http://www.4nclresults.co.uk/2021-22/media/jncl/we2/prog-div1.html
http://www.4nclresults.co.uk/2021-22/media/jncl/we2/prog-div2.html
JHJ 1 won Div 1, and Robin Hoods A won Div 2.
My report is below!
---
Welcome to my report of the 2nd 4NCL Jnrs weekend!!
The 3rd one is in April, so another one then as well :).
Now on with the report....
The M1 was the main way to get there, as the hotel was situated right next to it, also very close to the VERY popular East Midlands Retail Park.

Heading up the M1 in the morning...
A lot of players had to use this motorway... ( People from London and the South etc. )
I arrived around 8:45 AM on the 5th ready for 2 days of chess!
There were 2 Drinks Machines in the area between the chess rooms and the waiting areas, which were great, but they ran out very quickly....
Let's just say stocking biscuits there = lots of people taking them...
But we can all agree, the venue was quite nice.
---
The event was spread over 2 days, with 3 rounds on Saturday and 2 on Sunday.
A variety of players came from all over the the place, including Wales!
Each round had about 3.5 hours!!! To complete, so we had A LOT of waiting time...
There were 3 main arbiters, 1 for div 1, 1 for div 2, and the other for everything....
At the end of the first day, Warks B were leading, but JHJ managed to pull back and secure a win, after Warks losses vs Ojays and Leicestershire.
Robin Hoods were dominating Div 2 from the start, but in the last round Warwks D managed to pull off a great victory vs much better opponents, and take 3rd place.
Well done to all the players!!
---
All sections were merged in 1 room, there were 2 waiting rooms + the Hotel Lobby.
A lot of people did stay in the hotel, but with only 160 rooms, space went quickly, and many didn't.
It had a pool and a fitness centre.

This Banner was in the front of the Hotel...
Previous weekends have been held here. ( in 2019 )
The next one is in Daventry.
---
As a normal person, I had a wander around the place, going 2 floors down, to the top of the hotel, but near the Playing Hall, something caught my eye...
This creepy place behind a gated wall.
A friend said it is a bar, who knows!
The gated thing was easily lifetable, and there was a weird door hinging off the side.
Here's an image, see what you make of it...

HMMMM
Here are a few images around the car park....

These both are the views from the parking.


Another image of the parking.
The overall look of the hotel was nice, though I thought the Fitness area would be a lot more advertised...
There was a Premier Inn the opposite side of the road, which had a Brewers Fayre or something

Another view of the front. - Looked decently appealing
There wasn't as much parking as I expected, but sufficient amounts.
The lobby was often very full during mealtimes, as this is where they served food ( see below )

The entrance / lobby entrance.
*I tried not to take too many photos including people....
But there was a big lobby, ( use the hotels website!! )
https://www.ihg.com/holidayinn/hotels/gb/en/alfreton/xqhma/hoteldetail

Something which I shared which I got for lunch.
( It was the Perfect Pizza )
It came with a salad and wedges, and based on what other people got, which seemed a rip off, this actually seemed good Value for Money at it's low cost of £3.....
I think we might have cracked the system ;))))
PLAYING HALLS / AREAS :
Below are some photos of the playing areas I took....
Sorry if it's lousy.....

The left hand side of the room, where the reserves were.
( Reserves are 50 + 10 ECF RTD )

Starting to head over to Div 2 and a direct view of the Arbiters Desk ( where 2 of the arbiters sat )
Fun story :
At the last 4NCL I had to arbiter the reserves at one point....
Guess what?
I did it again - No surprises though..
It was very fun, especially with the 6yr olds asking so many questions... :)
Well it might have hurt my feet and gone on for 2hrs and 15 mins, but it was worth it :D

The other end of Div 2, now starting to go into Div 1!
Info :
Div 1 - FIDE + ECF - 80 + 10
Div 2 / Reserves - ECF 50 + 10
Top 3 teams in both sections received prizes
My very bad photo editing... :
Well I have to blur people's faces....

( I tried to cover everyone's face out )


( Same thing here )
---
Overall it was a great event!
See you in the 3rd weekend!
Well thanks for reading and stay tuned for more!!!!