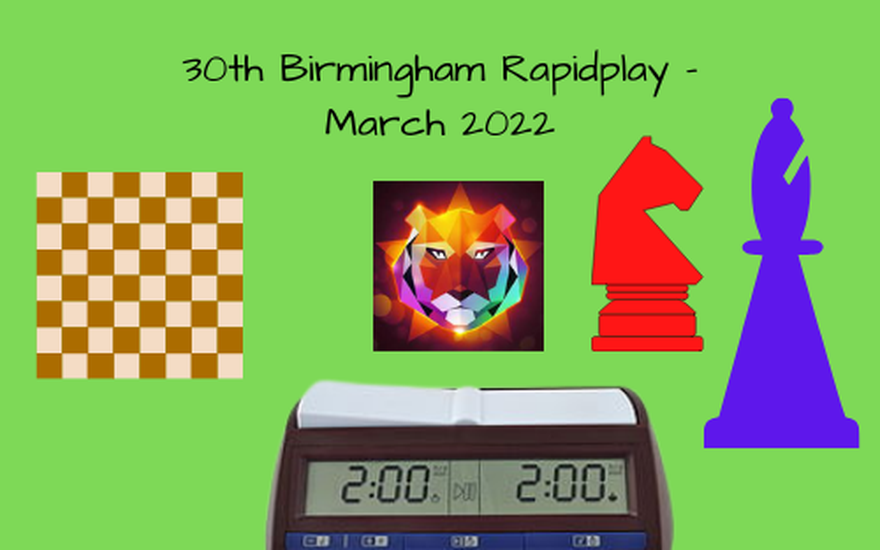 Canva, Facebook, Me
30th Birmingham Rapidplay - Event Report
A report and overview about the 30th Birmingham Rapidplay event
On the 20th of March, the often bi-annual event took place again at Quinborne Community Centre - with 4 sections, U1500, U1750, U2000 and Open.
---
Prize money was given - £120, £60, £30 - for all sections.
With £200, £100 and £50 with a £25 perf. Ww.e prize - for the open
A total of 120 players attended this time, filling up 3 rooms - the Bennet Hall, Annex and Room 1!
---

An image of what pairings looked like and what the image says ;)
---
There were 4 arbiters ( I think! ), 3 NA's and 1 IA.
At one point in the U1500's - 1 adult player was surrouded by 5 or so children all on the top 3 boards - causing a lot of the parents to realise Kids are superior in chess ( yes we are :D )
---

This is what the U1500 and U1700 playing hall looked like so you can get a glimpse - to the left is a door out + toilets, and far right up to hall is the Annex for the U2000's
---
The event was a 7 round 15+10 swiss, all sections FIDE and ECF rated as well. Because of demand, another event will be held on the 12th of June at the same venue, making this event become tri-annual possibly!!
---

This was the playing area for the U2000's.
---
The venue has been serving the community for a very long time, and has numerous rooms and classes going on. There was a main cafe area where most people sat with a few round tables and a few chairs.
Additionally there is a lobby and several large corridors where people also stood around.

This is one side of what it looked like from where I was sitting
There was also a 25 / 30 I think - ish, space car-park where a lot of people also sat and discussed games.
I think the library would have been a space of refuge, but as it was Sunday, it was closed :(
---

The front reception and lobby area.
---
The field in the Open section was quite strong - with numerous titled players and a GM!
The open was in a smaller room - R1 - to the right of the reception picture above - the cafe was to the immediate right and other seating areas.
GM Mark Hebden won, with FM Yichen Han following him.

This is what the room for the open looked like
---
https://chess-results.com/tnr620879.aspx?lan=1&art=1&rd=7&flag=30 - you can navigate to all the results here!

There was also a lovely garden courtyard area outside which a lot of people also used.
There's also a small allotment ( not in this picture ) - to the left - which looks beautiful and stunning once in
full bloom :)
---
Each round was 1hour and 10 minutes between eachother - I like to use this mini formula :
Time control - (((Increment - x 60) + Base time) x 2 ) + Increment in minutes - which gives 60 minutes in total, and always give 10 minutes between rounds for players to rest.
---

Here's what one of playing areas looked like - I think in round 6 - I had finished quickly with a draw here.
Overall, this event was really good, and I ended winning £7.50 - undefeated - 3 draws, 4 wins - in a 4 way tie for 3rd ( in the U1500's )
---
Thanks for reading and see you next time :)