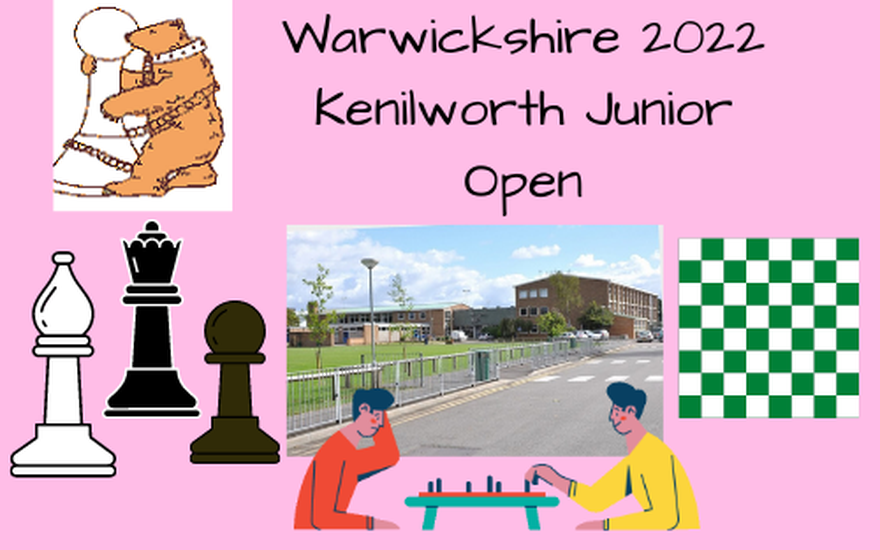 2022 - Warwickshire Junior Grand Prix - Kenilworth Junior Open
The 2022 Kenilworth Junior Open ( Part of the Warwickshire Grand Prix )
An event report on the Kenilworth Junior Open.

Picture near the entrance at around 6:15 PM
---
Tournament Links :
U11 D - https://chess-results.com/tnr612054.aspx?lan=1
U11 C - https://chess-results.com/tnr612053.aspx?lan=1&art=0
U11 B - https://chess-results.com/tnr612052.aspx?lan=1&art=0
U11 A - https://chess-results.com/tnr612051.aspx?lan=1&art=0
U18 B - https://chess-results.com/tnr612050.aspx?lan=1&art=0&flag=30
U18 A - https://chess-results.com/tnr612049.aspx?lan=1&art=0&flag=30
---
People from across the UK are playing this time, there is no restriction on that this time!
http://www.warwickshirechess.org/
http://www.warwickshirechess.org/2021-22/Junior.aspx
http://kenilworthjunioropen.warwickshirechess.org/
Report :
( I took the exterior photos at 6:15PM, so sorry if they are dark! )

The actual entrance!
---
The event started at 13:00 ( 1 PM ), with the final round taking place at 17:00. It was a 5 round swiss, in 6 sections, with time control 15+10. 3/6 of the sections were also FIDE rated, all were ECF Rated.
There was a LOT of flagging, and games decided by time pressure....
Take this example from my round 1 game - I was on board 1 against a good friend ( he was the top seed by ECF ) - I was a much lower seed, thought the opening, it might have been equal, but I played F4 around move 14, opening up the whole centre, which lead to Black being slightly better, me losing a decent position, however, both of us around 3/4 minutes, couldn't convert to a win. Black tried to retain a winning position, but I just kept repeating and holding on. Eventually I did some risky trades which paid off into a drawn endgame. However, both of us often going below 10 seconds, it was quick thinking and high risk. I offered 2 draws, both declined, because I am terrible at handling time pressure in rapid... ( this also happened in a later round.. ) I had slightly broken his pawn structure, as he tried to break through, but I resisted, so I tried to exploit the queenside, I think it was equal or I was going to at least win a pawn, I had easy drawing chances, but I was too greedy, and low on time for calculation. With about 9 seconds on the clock, my opponent played check ( QD5 ), and we were both not saying check, and I didn't realise, with 3 seconds left, touched my queen and proceeded to move it somewhere else, what's weird is that I could have played much much better moves with my queen, if it was legal to do so.. He immediately said illegal move, and called the arbiter, he got 2 minutes, which was great for him, as I had 3 seconds! Then other arbiters and then suddenly I realised, I could block with the queen... Which unfortunately lost the game, but I've won games because of that rule, so I know it's fair :) I ended up with 2.5/5, with both losses from games under time pressure. ( In the British Rapid U14's, I won a few games on time, which saved me )
My ECF did go to it's rapid peak though after this... ;)

Rushed photo of the school board.

A face blurred photo, with annotation of where sections were. ( yes it looks atrocious, so I'll attack a nicer one below soon.... )
About the venue :
Normally, events here are held in the Upper School, which has a slightly wider and longer hall, and the classrooms are slightly bigger, additionally, it has a canteen.
However, this time it was in the Lower School ( a different entrance )
Me being me, decided to explore this place, to see if I could enter the upper school from the lower school...
There was pretty much only 1 corridor, and I explored every branch of it, to eventually find another canteen and a science lab.
I did see a small playground which did eventually lead to the upper school, I saw some older children having a class in a classroom across the 5 meters of concrete...
Apart from that nothing that interesting here.....
When I go back to South Normanton, I will find out that Bar Mystery though....
And potentially, when Daventry comes around, there are some 'weird' areas there as well...
Here are some of the waiting areas :

A small lobby next to the corridor to the playing area

Waiting room #1 ( rm 5 )
We got allocated 3 waiting rooms, this is one ( above )

One of the long corridors where I explored...
Prize Giving :
As normal, all the medals were laid out on a table, and kids came up one by one to receive them.
( 2.5 or 3 - Bronze, 3.5 or 4 - Silver, 4.5 or 5 - Gold )
All the parents accumulated in the hall as normal, and they were given by Section and Age order. All points scored go toward the Grand Prix, which at the end of the Academic Year, 1 player from U9, U11, U14 and U18 ( Open and Girls ), wins quite a big trophy....
As I promised, a slightly different playing hall photo...
Below is an example of the medals...

A picture of this times medals ( A gold and a Bronze )
There are some new Bronze designs now, same with last time, but the gold's are the same, apart from the extra 3 stars... :)
---
Thanks for reading!!!!!